Make A Game Clicker
All who like screen clicker and tapping games try this Make a Game clicker!

You play through the game development process including design, implementation, testing, test play and selling. What is the game making? It is lots of tapping keyboard and clicking with mouse.

Simple to play
- Make the game design by clicking
- Make the game implementation by clicking
- Fix bugs by clicking moving bugs
- Play finished game. Fully playable games with own leaderboards.
- Sell game by clicking

FEATURES:
★ Two game to create Space shooter and Jumper man
★ Achievements
★ Leaderboards
★ Earn in game money while playing
★ Upgrade refreshments, cookie, computers, software tools, touch and resources
★ You can buy sw designer and senior specialist to help your progress

TOP REVIEWS:
★★★★★ "SUPER !!! Developed FELLOWS !!! The game at first glance a typical clicker, but different modes, stages Ystad pleased. Continue to develop the game." - Максим Столярчук
★★★★★ "Your are my god!!! Thank you for this great game!!!" -Steve First
★★★★★ "I'm excited I can't wait to make my own game" -Olivia Luckert
★★★★★ "Tap Tap Tap love it" -Quail Estates

If you are tired of tapping cookie, money or egg try this game!
If you have ever wanted to make a game? Don't waste time start now, your friends already started and you need to catch up!

Be prepared for fun and entertainment!

Recent changes:
In game coins and upgrades added. New upgrades refreshments, computers, sw tools, multi touch and resources can now purchased with in game coins. You earn coins while playing.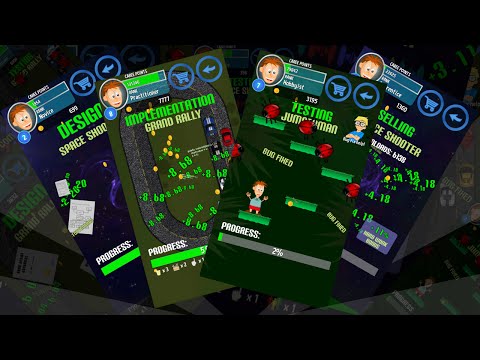 Write the first review for this app!