Mandala Live Wallpaper
The live wallpaper shows animated mandala from the abstract images. The animated art mandala is used as object of concentration and a focus of attention. Symmetric geometrical forms mandala color promote achievement of calmness and a meditative condition. Abstract art images with smooth animation of forms and colors will serve as a good ornament for the smartphones and tablets, will remove a pressure and weariness. Animated mandala helps to relaxing in rest time. In the settings you can choose images for mandala,
animation speed and segmentation of abstract images (affects CPU usage). You can also include "water effect", when this option is enabled, by the mandala images as if water is flowing. In this version offers a selection of twenty-six mandala animated images. Operates using OpenGL. Mandala wallpaper is a optimized for
use with any size screen including tablets.
TO USE: home->menu->wallpapers->live wallpapers

Recent changes:
Added "water effect", when this option is enabled, through the images as if water is flowing.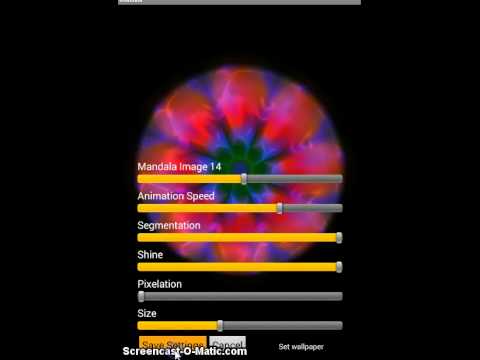 Write the first review for this app!
No comments in the Android market yet