Midnight Driver: Night Racing
Welcome to Midnight City, an underground racing community that's not publicly known. This remote city is where all the best stunt racers and drivers come when night falls to spend their time improving their skills while they wait for the real challenges. Cruise the open world city streets at night with your tricked out sports car. Race against other cars and earn cash to buy new cars. More features on the way, grab your wheels and enjoy the ride..

Current Features:
-Tilt controls for steering
-Gas pedal button on screen
-Nitro button on screen
-Brake/Reverse pedal button on screen
-Speedometer
-Arrow on screen for destination navigation
-Huge open world city to explore
-5 races, finish in first place to earn 3 stars for all the races.
-Race timer, race to beat your best time.
-Mini Map
-6 Vehicles
-Garage to buy new cars and choose races

Upcoming features in the works:
-Open world AI (traffic and player challenges/events)
-Car upgrades
-More races
-More cars
Midnight Driver: Night Racing is an independent video game project. If you're interested you can find updates for the development progress, learn to make your own games and apps, or just stop by to check my channel out at https://www.youtube.com/user/TurnGameOn

Recent changes:
**March 11, 2015
*Graphics:
-Added a camera blur effect to cameras

*Game Play:
-Reduced the price for all cars

**February 27, 2015
*Content Update:
-The open world now has a much bigger terrain.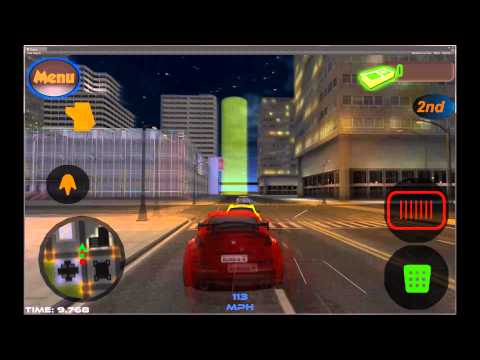 Write the first review for this app!