mJobForce
mJobForce empowers an organization's field work force by offering a smart phone driven mobile CRM as well as dashboard on the cloud for the stakeholders/managers to effectively allocate the tasks/prospects. The solution also measures field workforce productivity as well as Geo-track the individuals from the centralized office.

Our solution can also be customized to fit into an organization's existing workforce management infrastructure.

Kindly see the training Videos at: http://fieldworkmobility.com/index.php?option=com_content&view=article&id=83&Itemid=109

What we offer:
Android based smart phone app having Salesforce Integration and Mobile CRM with lots of features.
We offer an Integrated solution to empower your field workforce within your organization.
We also offer a customized solution utilizing our existing product to support and manage your existing field workforce operation.

The features are:
1) Ability to create and execute reminders with one click
2) Ability to create reminders while call prospecting
3) Ability to start the call from any contact instead of from the beginning by selecting the radio button next to the contact row.
4) Ability to skip a specific contact while dialing
5) Ability to send sms message larger than 160 characters.
6) Ability to use email/sms template from contact detail as well as while call prospecting.
7) Ability to create custom list from the main list by filtering with various criteria
8) Ability to do disposition of contact right after the call in "Call Prospecting Mode".
9) Ability to send email to the contact immediately after the call in "Call Prospecting Mode".
10) Ability to send sms to the contact immediately after the call in "Call Prospecting Mode".
11) New functionality added to create and manage SMS and email template with name personalization. The templates can be used in "Call Prospecting Mode" to send personalized SMS or email with pre-created messages.
12)Ability to import contacts from CSV File by mapping CSV fields with internal contact fields.
13)Ability to export processed contacts to CSV file
14)Ability to Pause after each call with Stop and Resume button
15) Ability to run the dialer in auto dial mode
16)Ability to run the dialer in call prospecting mode to update contact, set reminder, add notes immediately after the call before resuming to the next contact.
17) Manage Custom List including deleting custom list
18) Ability to sync data with mysalesdialer.com dashboard
19) Ability to report the geo-location to the dashboard. Ability to show the current address of the device to the user
20) Ability to use Skype as dial channel instead of native channel
21) Ability to do bulk mailing
22) Ability to do bulk sms
23) Ability to do bulk update and bulk delete
24) Ability to start dialer from where it left off or from a specific contact
25) Ability to search by first or last name and run the dialer on search result
26) Salesforce Integration at no extra cost
27) Task Management Feature


Keywords:

App to assign tasks to field sales force, Cloud-Based Mobile Workforce Management, Manage remote sales force, Auto dialer for sales force, Tracking field sales force, CRM app for mobile sales force, Cloud based dashboard reporting for mobile sales force, Auto dialer with call prospecting mode, App for field sales force, App to manage remote sales force, Managing field sales force, Remote sales force management, App to monitor remote sales force, CRM app for for remote sales force

Recent changes:
Added monthly subscription with 30 days free trial to provide better support to the users!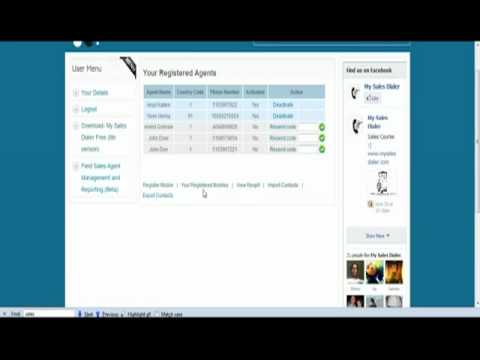 Write the first review for this app!