MobiTV - Sri Lanka TV Player
MobiTV Sri Lanka TV Player is a Mobile TV Player for Android to watch Sri Lankan TV channels all in one place. MobiTV intelligently presents you the info about Now showing TV shows on all channels & lets you watch them instantly without any hassle of going through each channel to select a show to watch.


Not only TV shows, MobiTV also brings you the info about upcoming International Cricket Matches whenever Sri Lanka is playing. When the match is Live, MobiTV lets you watch that match directly from your mobile while giving you the live updates of the match on MobiTV Cricket Exclusive bar.


Features
* Watch all Sri Lankan TV channels on your mobile in one place via 2G, 3G or Wi-Fi
* Presents you the detailed info of Now showing TV shows in all channels
* Lets you know when the Now showing TV show started & how much you've missed
* Know the details of Next show & later show & when they start
* You can add reminders to your favourite TV shows
* Also you can see the weekly program schedule of each channel
* Choose between streaming typing by tapping Watch Live button (RTSP, M3U8, Flash)


Cricket Exclusive Features
* Get Live Cricket scores of SL matches
* Get Cricket Updates on upcoming SL Matches
* Watch Live webcast of cricket matches whenever Sri Lanka Cricket Team plays


TV Channels
* Rupavahini | ජාතික රූපවාහිනිය
* ITN | ස්වාධීන රූපවාහිනිය
* TV Derana | ටීවී දෙරණ
* Hiru TV | හිරු ටීවී
* Sirasa TV | සිරස ටීවී
* Swarnawahini | ස්වර්ණවාහිනිය
* CSN
* TNL
* Vasantham TV | வசந்தம் TV
* Dan Tamil TV
* Siyatha TV | සියත ටීවී
* Maxx TV
* The Buddhist
* Shraddha TV | ශ්‍රද්ධා නාලිකාව
* Daham Gagana TV | දහම් ගගන ටීවී
* Rangiri Sri Lanka | රංගිරි ශ්‍රී ලංකා
* Siyeli Dasun | සියැලි දසුන්
* Swarga TV | ස්වර්ග ටීවී
* Sri TV | ශ්‍රී ටීවී
* TV Lanka
* Gee TV | ගී ටීවී
* Raja Music TV | රජ ටීවී


README

Note1: This TV Guide app is free, but you may be charged for the data usage when streaming video over data network depending on your data plan. Watch MobiTV on Wi-Fi to avoid additional charges.

Note2: Some of the channels need Ustream app & MX Player app to be installed on your device. MobiTV will prompt you if you haven't already installed these apps. Tap 'Yes' & install them via Google Play.

Note3: Some of the channels need Adobe Flash Player to be installed on your device. The app will prompt you if you haven't already installed Flash Player. Tap 'Yes' to download Flash Player APK & install it manually by opening the downloaded file. It can be also installed via Google Play for some devices.

Note4: Some channels may take up to 20 seconds to start streaming over the default streaming type. You can long tap the channel icon & try different streaming types (RTSP/M3U8/Flash) to find the fastest type for your device.

Note5: Unfortunately some channels may not work on some devices.

Disclaimer: MobiTV is a Mobile TV Player App which aggregates official live streams of Free-to-Air TV channels. MobiTV does not rebroadcast or re-stream any channel so not liable for any content. All the content, trademarks & logos are the copyright & property of their respective owners.

© 2014 Bhasha Lanka (Pvt) Ltd

Recent changes:
Fixed Cover image loading issue.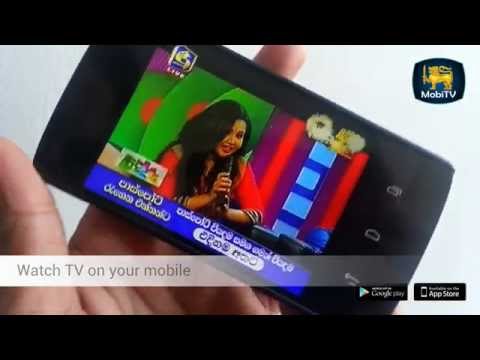 Write the first review for this app!