Monster City Run : Best Runner
Bored of endless running through temples and tombs? Welcome to the haunted city!

-its a Free game and no extra cost so, Get it now

- Survival is an epic for this Adventures game

- A DANGEROUS & Fighter Beast is chasing you so, be alert & never known when it will attack and have a fight

- Simple tap controls: Run, jump and slide over an endless number of spooky obstacles such as spider, gravestones, bat, cars and barriers as they try to slow you down.

- Change yourself: Unlock different characters like zombie, explorer, boxer and ninja to make him run with a infinity killer style and save the life.
- hunter the power to enjoy with fun Heros
Choose one of six kids like Heros -
X-Mayhem Astronaut
Joyride Black Cop
Avenger Lenzo
men Zombie
iron Super Explorer
Luchador or Ninja man
Angry Beast - to lead yourself to victory.

- Amazing Race through the blade Physics obstacle and order of chaos

- Before the start 5 4 3 2 1 tagline to get ready

- You have to run for your life to escape the Evil Monster behind your heels.

- Escapes from the godzilla Monster, collect nova star, upgrade your hercules character.

- Go on an endless running adventure in Top Horror Mode!

- Collect the Gold coins to unlock various characters

- Collect the various power-ups to reach maximum distance using jetpack and war.

- Best Sound play and music

up coming version

- update high score on online on facebook or leader board
- change songs on each hero
- customise the cartoons using paint colors or dress up

The world famous Monster City knows has no bounds!

Watch video or movie of this game on youtube

DOWNLOAD Monster City Runner TODAY to joy !
An App Brought to by iSoftgames Top fun free and best all the time.

Recent changes:
Bugs Fixes!
Remove Ads!
in-app purchase!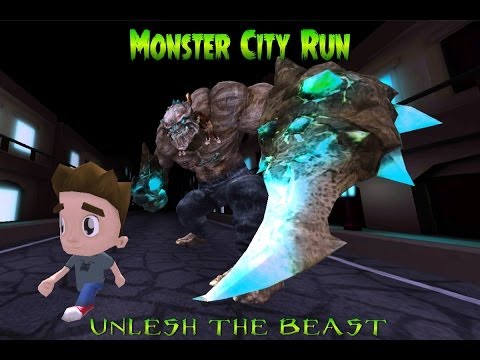 Write the first review for this app!