Motivational Live WallpaperPro
Animated wallpaper with positive messages to motivate you on a day to day and upload your self-esteem.

This fun application set wallpapers with encouraging phrases that change if you shake your device , or every few times it's activated.

The frequency with changing messages depend on the sensitivity of the motion sensor in your phone.

If your job does not motivate you , this app will help you raise your self esteem and improve your life

Rate :
If you like this app , please rate it positively on Google Play and spread it among your friends .

When you need to encourage , simply activate your phone and see a positive phrase at your screen.

To help you set this animated wallpaper, you can watch the explanatory video.

Permissions :
Access the internet is needed for advertising system that is found only in the settings screen without interfering with the normal operation of the same is necessary . This ad is one that allows the application to be free.

Terms relating to this application : background , anime , phrase, positive , entertainment , live, wallpaper , psychology , lifestyle , karma , coaching , stir , self-esteem

Recent changes:
Interfaz mejorado para tablets.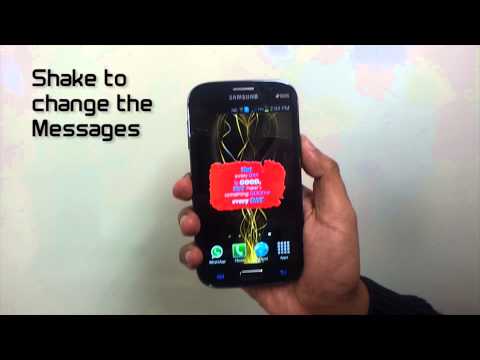 Write the first review for this app!
No comments in the Android market yet