Mutants: Genetic Gladiators
BECOME THE ULTIMATE PSY CAPTAIN!

As a newly recruited Psy Captain, use your unique Psychic Skills to control and lead a selection of genetic gladiators, train and cross breed them to unlock new attacks and discover new species of mutant.
Assemble a powerful team that will vanquish your opponents in worldwide competitions and multiplayer arenas, fight your way to the top and become the ultimate Psy Captain.

★★★★★ "Brilliant! Best game I have ever played"
★★★★★ "Cool and awesome game! Guys join the fun!"
★★★★★ "Super fun and addictive. Lots of fun. Love the game"

FEATURES

- High Quality free game
- Play Mutants: Genetic Gladiators synchronously at home on your Tablet and whilst out and about on your Smartphone (internet connection required to play)

COLLECT & ASSEMBLE A POWERFUL TEAM OF MUTANTS

- 6 Different Mutant Genes to unlock through the game: Sabre, Necro, Cyber, Zoomorph, Galactic and Mythic.
- Over 150 unique and different mutants to discover and collect.
- Discover secret recipes to gain unique mutants that will terrify your opponents.

CROSS BREED & TRAIN TO STRENGTHEN YOUR TEAM

- Cross breed your creatures to unlock new and powerful mutants.
- Train your mutants to improve and unlock powerful new attacks.
- Use your high level mutants to create superior Elite Versions.

LEAD YOUR TEAM TO VICTORY!

- Visit exotic and varied locations as your team competes across 4 Divisions.
- Dynamic 3 v 3 Fights using Gene based strengths and Weaknesses system to create millions of possible attack and defense combinations.
- Compete against other players from around the world. Be Victorious to climb the Ladder and win magnificent prizes.
- Team up with your friends to build a strong selection of allies to call into battle to help your team.

If you have any questions or suggestions about Mutants: Genetic Gladiators we'd love to hear from you, please contact us here : support.kobojo.com

Recent changes:
- GET READY TO DISCOVER THE ORBS! Equip your mutants with these precious items and increase the power of their attacks, their life or their ability! Change the course of the combat with the Special Orbs and boost their speed or equip them with new abilities!
- Spin with Gold and BE SURE TO RECEIVE THE MUTANT YOU NEED!
- In order to BE SURE TO WIN EVERY FIGHT IN THE PVP, you need to know your enemy! With the new information "Sum of levels" you now see the total level of his mutants.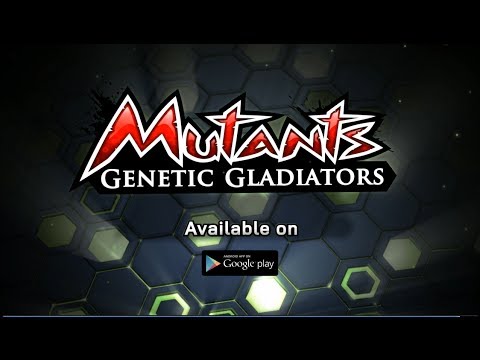 Write the first review for this app!