My Fishing Advisor
My Fishing Advisor is the freshwater fishing guide for your phone:

This is a powerful tool offering freshwater fishing advice. It analyzes the weather, sun and moon position, moon phase, and many other factors to determine where fish will be located, how active they will be, and what lures, baits and presentations will be most effective. See the best fishing days and times based on your target fish species, the weather, water temperature, spawning related behavior, solunar factors and more. It will guide you as you select the structure and cover to fish, and what type, size, and color of fishing lure or bait. It will even help you select the right line and details like sinker weights, hook sizes, etc.

MFA features a fishing calendar to help pick the best dates, plus a detailed short-term fishing forecast that identifies the best times. Chose a quick plan or make a custom plan built around your preferences for techniques, lure types, locations and more.

MFA can help you catch:

Largemouth Bass
Smallmouth Bass
Striped Bass
White Bass
Northern Pike
Musky
Walleye
Yellow Perch
Crappie
Bluegills & Sunfish
Channel Catfish
Flathead Catfish
Blue Catfish
White Catfish
Carp
Rainbow Trout
Steelhead
Brown Trout
Brook Trout
Lake Trout
Chinook Salmon
Coho Salmon

The app is ad-free, though it may suggest some name-brand lures and provide a link where the lures are available. If you prefer to see no specific products, turn off the name brand lures option in the options screen.

Recent changes:
1.50-1.53: Fix for moon phase issues, map crash
1.49: Fix for Galaxy Note and similar devices
1.43-1.48: misc. fixes
1.42: Adds calendar view to the forecast screen and the "more options" button on the fish plan to give you quick access to other alternatives.This is the first version in which the main app was moved from My Fishing Advisor to My Fishing Advisor Pro, and the free version was discontinued.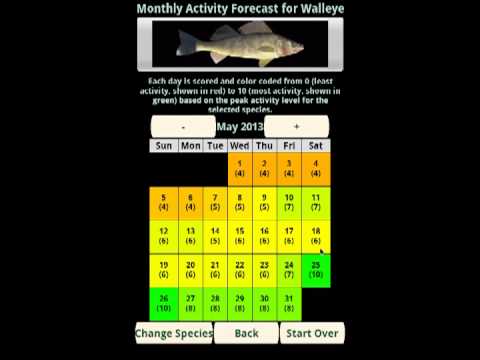 Write the first review for this app!