NAO Remote Control
NAO robot owner? Turn your Android into a steering wheel that controls NAO, the humanoid robot.
The robot-app has 2 major components:
1. The NAO Remote Control Android app (this app);
2. The NAO Server desktop app. Get it from http://www.robotappstore.com/Apps/NAO-Server--Remote-Control-From-Android.html?x=41B586C9-FEC2-427C-B75F-1B7DAB589CD7

How to use it:
1. Make sure NAO robot, NAO Server app and the Android device are all connected to the same network
(you can have them connected to different networks if you have set a proper routing rules on your router);
2. Turn on NAO, and get his IP address. (Single press on the chest button);
3. Start NAO Server app.
Type NAO's ip into "NAO ip" text box;
Type the ip of the desktop that runs NAO Server app into "Self ip" text box;
Press the "Start Listening" button;
4. You can see that the status on the NAO Server is changed from "Disconnected" to "Waiting for connection".
If something went wrong, please recheck the values of your ips / available port;
5. Back to NAO Remote Control, the Android app- Press the "Connect" button;
6. Type the ip that was inserted into "Self ip" on the NAO Server app, and the port that appears next to it (default 8000);
7. Press "Connect to the server" button.
If something went wrong and the play button is still disabled, please recheck the values of ip and port;
8. Press the Play button.

Now you can start controlling your NAO:
1. Make sure NAO is in sitting position, then press on "Stand Up"– NAO will stand, and then a new button will appear, the "Press and Tilt" button;
2. To steer the robot, hold your Android device as a wheel and tilt the android right / left back/ forward, while the "Press and Tilt" button is pressed.
NAO robot will follow the same direction;
3. To stop walking, simply stop pressing the "Press and Tilt" button;
4. To sit down – just press the "Sit Down" button;

Steer carefully!
NAO's life is in your hands!

Recent changes:
New app in the market!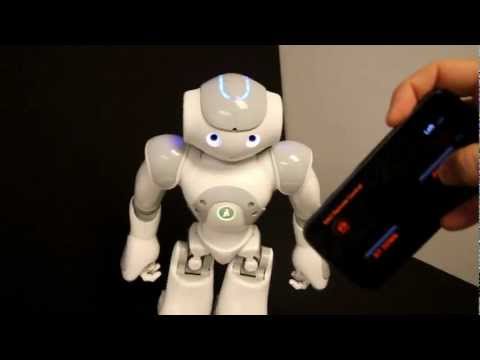 Write the first review for this app!