NBA General Manager 2014
HEAD UP THE TEAM OF YOUR HEART. CREATE YOUR DREAM TEAM!

Welcome to NBA GENERAL MANAGER, the only basketball game that allows you to lead your favorite NBA team: sign up the best players, put them in your 5 Man Unit, challenge thousand of users from around the world and give your best to get the title!

A Basketball Management game different to anything known until now.

CREATE THE BEST TEAM POSSIBLE

Choose your players among the active NBA players and the greatest legends of all time, enter the Auction House and make your bid, create your best roster and play challenges and tournaments against other General Managers. Lead your team to glory!

VERY REALISTIC GAME

One of the features that makes this game so realistic, is that your players' perfomance in the game, depends on their performance in real life matches, so stay tune to what happens in the real life to know your most skillful 5 Man Unit of the week.


MATCHES AND TOURNAMENTS

Play head 2 head matches or tournaments, gain experience to level up, or cash to sign up the best players, even coins to get virtual boosters. Do a good job because the competition will be stiff.


GET YOUR PLAYERS FIT

Keep your team fit to make the most of it. Remember that your players' performance also depend on their fitness level.


LEVEL UP YOUR PLAYERS

Your work does not finish here: you must level up your players in order to keep improving their skills and performance. Do your best to get an unstoppable team!

EQUIPMENT AND BOOSTERS

Strengthen your team with virtual boosters. Improve your three points shot or your defensive rebound or whatever skill you think should be enhanced. The more boosters you get, the more chances to win your matches and the season you have. It's time to give your best on court!


Download NBA General Manager for free and head up your dream team!

We're already working in new features. Thank you for playing NBA General Manager!

Recent changes:
In this new version we have added a new participative newspaper with real current news. This way, other than having fun in the game, you can also be informed about what really happens in the NBA.
Also, we have incorporated a new friends tab in the Fans section which will help you easily connect with your Facebook friends.
Lastly, we would like to tell you in advance that you will soon be able to relive the regular season with your team, with a new feature and, of course, fight for the ring.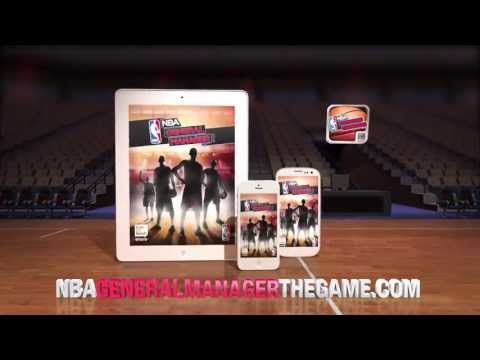 Write the first review for this app!