Net Speed Meter
"Net Speed Meter" allows we to check network throughput/traffic with chart, it overlays on the top of screen, so that we can always know the traffic when watch youtube or browsing internet etc.

Just watch the introduce video for a quick review.

http://youtu.be/wc7fx5venpg

We believe you will like it if you are care about network traffic throughput all the time.


[Feature]
-No matter what App run in the foreground, you can alway know the network throughput.

-Display the network throughput with chart.

-Tap and slip the chart to anywhere you want!

-The chart can auto hide after there is no network traffic for a while.

-Custom your view ! You can disable chart, let it show only numeric.

-Monitor network type support: 3G, wifi, Bluetooth.


[Tips]
-Click the "Net Speed Meter" notification can launch the config screen.

-Long press the chart can also bring you into the config screen.

[keywords]
net network meter download upload byte KBytes Kbits speed throughput trafficmonitor speedtest meter wifi 3G HSPA HSPA+ wifi bluetooth

Recent changes:
V1.1.1
* Upgrade app and notification icons.
* Refine strings.
* Removed unnecessary permissions.

V1.1.0
* Adding more features: Support adjust text size, chart height, record time.
* Adding back notifications due to Net Speed Meter could be kill when system
low memory. But users still can disable notify.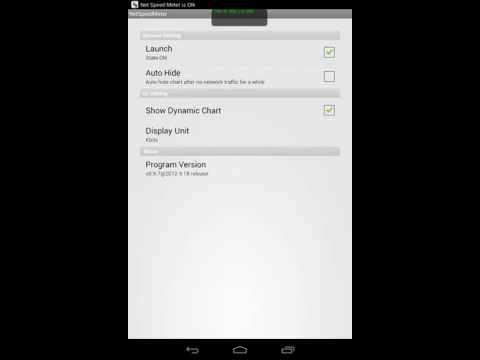 Write the first review for this app!