NeuroScore.GB
Neurological assessment scales used in acute stroke
Mobile application that contains neurological scales to assess reliably and accurately the severity of the stroke, his progesión, prognosis and outcome.
It includes the rules for conducting a systematic neurological examination right in the "Code Stroke" Calculate the score on the different rating scales, making a summary of the exploration and giving a prognosis and treatment recommendations.
Content: NIHSS, modified NIHSS (neurologic assessment recommended by telemedicine), Canadian scale (simple neurological assessment), Barthel (functional assessment), modified Rankin scale (global evolution and dependency), FuncScore (IC hemorrhage functional dependency) HIC score (risk stratification in the HemorragiaIC), and GCS Glasgow Coma Scale in intubated patients.
Attached is information and references for each of the scales.

Recent changes:
We have included Subarachnoid hemorrhage grading scales (Hunt-Hess, Fisher, Claassen, Ogilvy-Carter, WFNS).
Has been optimized and improved navigation interface
Corrected a bug in the valuation of the Canadian scale.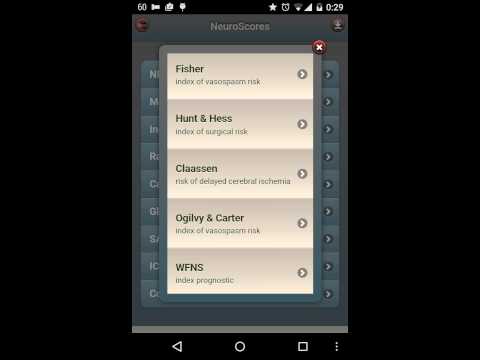 No comments in the Android market yet