NumBlox
NumBlox is cuisenaire rods - number blocks - for mobile devices!

o Standard number blocks 1-10 in standard cuisenaire rod colors.
o Or choose pretty rainbow, or pastel colors inspired by Math-U-See system.
o Standard cyan graph paper - unit grid, 5-and-1, or blank background.
o Math-appropriate graphite pencilwork with eraser.
o Blocks stack! Clearer expression of "subtract".
o Number display while moving blocks. Or always, or never. (Options menu.)
o Tap to rotate block.
o Limited language on user interface.
o Scroll with two-finger gesture.
o Rotate device - edit in landscape or portrait orientation.
o Share artwork via camera roll, email, Facebook, and Twitter.
o Or, block Internet access for young children.

NumBlox is available on web, iOS, and Android - iPhone, iPad, iPod touch, Kindle Fire, Android phones and tablets, all sizes.

Recent changes:
Version 2.3:

o New option to display numbers always, never, or while dragging a block (the default). Per customer requests.

o Tutorial system prev/next navigation, instead of auto-play.

o More maintenance updates due to Facebook changes.

Version 2.2.2:

Maintenance on Facebook and Twitter.

Version 2.1.2:

New Pastel color scheme.

Version 2.1:

o Rainbow or standard Cuisenaire colors.
o Zoom - great for small devices!
o "Other" share - list all apps that accept share.
o Smoother scrolling.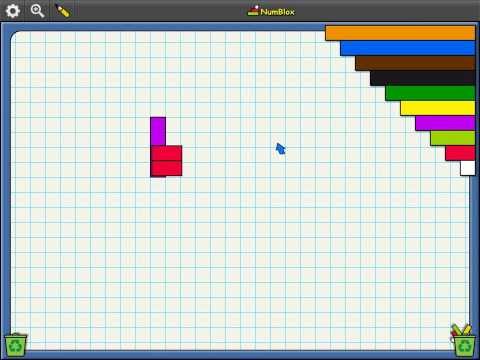 Write the first review for this app!