chess tactics and strategy
Chess training program. Includes tactics, chess openings, endings training, playing with computer, analysing ...

IMPORTANT:
1. PLEASE, WATCH DEMO VIDEO FIRST
2. DEMO (TRIAL) VERSION. SEE BELOW (*) FOR DETAILS
3. TO REGISTER THIS PROGRAM PLEASE BUY THE "pbchess - license" APPLICATION


Program site:

http://pbchess.vlasovsoft.net/en

We have a lot of chess training materials ( tactics, endings, classic games ) for pbchess at our site:

http://pbchess.vlasovsoft.net/en/contents.html

Please contact me if any questions!

http://pbchess.vlasovsoft.net/en/contacts.html

(*) This is demo version of pbchess program.
Limitations:
1. Displays registration messages
2. Can open only demo training databases. The registered version can open all the training bases.

You should register to get rid of these limitations.

Recent changes:
1. Base/Catalog menu added. Now you can browse chess bases, read descriptions and download/open them from inside pbchess program! NOTE that for non-registered version only the bases from "demo" level can be opened.
2. Base/Recent menu added. It allows to open recently used bases and see their title and author.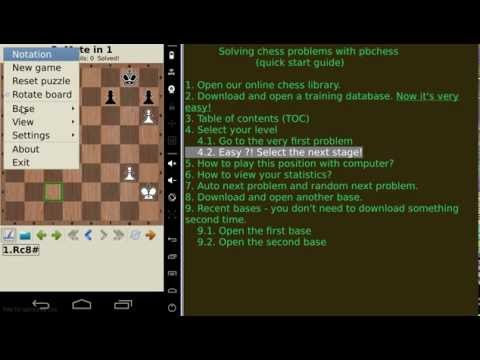 Write the first review for this app!