Play Theme for LLX
"Play Theme" Template for Lightning Launcher (eXtreme) with matching Zooper Widgets
This theme is best experienced when used with Lightning Launcher Extreme and Zooper Widgets.

This is a classy home screen aimed at displaying system info and providing easy access to all your content in a stylish set of four tabbed pages, a sidebar and an interactive music page. All UI interactions are designed to stand apart from typical paged android screens.
You can enjoy the theme better if you have used these apps before.

Version 2 brings all-new Material designed theme manager!!
1) Easily create your own themes and apply theme on the fly.
2) All widgets reworked to enable theming.
3) Intuitive interface.
4) Choose from over 20 pre-loaded themes!

Features:
1) Tabbed structure with clickable headers for navigation.
2) Sidebar with quick-links to drawer, music and theme-manager (can be accessed by tapping hamburger icon).
3) 6 Customizable folders.
4) Interactive music page with access to media controls.
5) List of widgets :
Storage
Battery Info (Dynamic - Changes accordingly to charging status)
Toggles (Power Toggles)
Sidebar
Header (Google Search, three dot menu) and Footer (App shortcuts - Text,Phone,Chrome,Music page)
TimeLine (Simple progress widget that tracks time)
Weather Info
Location Info with automatic location pinning on map
Task widget ( Edit manually)
6 Folder widgets
Music Controls with track progress
Album Art
New! Calendar widget.
New! Data monitor widget.
6) Swipe gestures - (See in video)

External Widgets used: Power Toggles.

Required Apps :
Zooper Widget Pro - http://goo.gl/pj5MGR
Lightning Launcher Extreme - http://goo.gl/Ls9PNe
Media Utilities - http://goo.gl/gnCPCb for music control.
Muzei - http://goo.gl/CIjbZy for dynamic background.
Muzei Music Extension- http://goo.gl/icMhbv

Setting for media utilities:
Check Zooper
Check Make Coverart Available
Cover art Size 400
Cover art Shape Rectangle
Check Send Song Progress

If you like these setup, please rate 5 stars! Enjoy!

Recent changes:
2.1
- Scaling fixes for numerous devices.

All new in-built material-designed theme manager!
- Easily create your own themes with an intuitive interface.
- Choose from over 20 pre loaded themes.
- Apply themes with just a tap!

Major Overhaul to theme!!
- Completely built from ground up to support multiple screen sizes.
- Reduced third-party widgets dependencies, compensated with new Zooper widgets.
- New Tab-redesign as per material design guidelines.
- New calendar and data monitor widgets.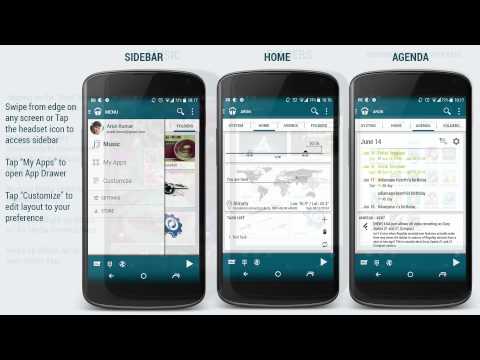 Write the first review for this app!