Player Time Tracker
This App will track the Playing Time of up to 25 players on a team. Long click on a Player to sub them IN/OUT of the game and their Playing time is automatically started or stopped.

Players "IN" the game are indicated by a green background.
Players "OUT" of the game are indicated by a white background.

Player times are automatically refreshed every 10 seconds.

Reset the timer to start a new Quarter/Half. Additional time will be added to players in the game automatically.

Reset the GAME from the Menu to clear out all playing times.

Email the Playing time stats to yourself/others as an HTML or CSV attachment.

Keywords: Playing time; Equal playing time; Timer keeper; Time tracker; Equal play; Fair playing time;

Recent changes:
1.73 - Add navigation bar support
1.7 - New look and dynamic sizing of buttons
1.6 - Player times will refresh every 10 secs automatically.
1.5 - Update for Tablets
1.4 - Changed Font size of player text and Color of Row/Text to make it more visible in sunlight.
1.3 - corrects issue when players are substituted via the manage team line page. Option is now disabled while timer is running. You must use long click to sub player in/out or stop timer to do it via manage lineup page.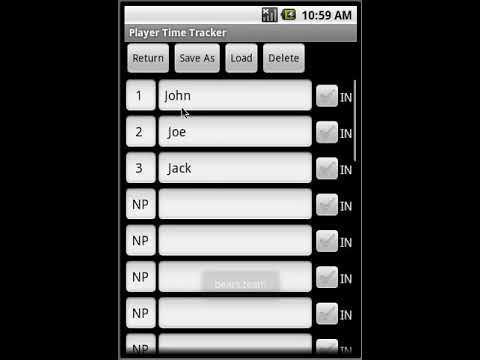 Write the first review for this app!