CastOn Receiver DLNA/UPNP
Create a special channel on TV to play contents from your smartphone, tablet or Windows PC!

Here comes an app that runs in a set-top box (NOT your phone), and creates a special "channel" on your TV that you can share contents from your phone or PC. Just make sure WiFi is connected, then start the CastOn TV Receiver app, and you are ready to go! Send movies stored or found by your phone to play on the TV screen!

PlayOn TV Receiver is UPNP compatible. It works as a usual UPNP renderer capable of streaming video, audio and photo data over a Wifi network. But that's not all - PlayOn TV Receiver does a great deal more if it is driven by the sibling app CastOn TV. Together, they let you play your favorite show on a big screen with the convenience of a touch-screen handset. Here are the highlights:

1. Cast web pages and PDF documents.

Send your favorite web pages or PDF documents to the TV Be the first to enter the era of TV as an application that is launched from your phone!

2. Support for playlist for video and audio.

Prepare your own "program" before you sit down and watch. You will still be able to insert a clip to play immediately, and in that case the playlist will resume after the clip is done. Note that this playlist is in the receiver therefore requests from different phones are sharing the queue.

3. Allow for continuous TV monitoring without a full-time connection

You can do fast forward, backward, pause, cancel from your phone and monitor playback status of the TV on your phone any time. You can leave your controller app to check mails, for example, and when you return the connection would still be there.

CastOn TV Receiver places no restriction on what type of media format you can play. It will play whatever the system plays. It can even play formats that are not supported by the system in a native manner by calling 3rd party player (our favorite is MX Player, for example, for video playback with software decoding).

This is a free trial version. The trial license expires after 60 times of activation.

Video streaming is demanding on the network. For 720P video streaming your network should have sustainable bandwidth > 200KB/s and for 1080P video double the bandwidth. A congested office WiFi, for example, is not good for streaming.

Recent changes:
1. Re-work the internal for improved capability and better user experience.
2. 1.x compatible but need 2.x CastOn controller to use new capability.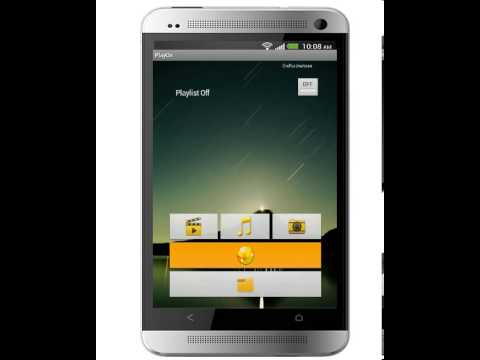 Write the first review for this app!