PocketPEC (trial)
PocketPEC is an Android application designed to simplify the management of italian Certified Electronic Email system (Posta Elettronica Certificata: PEC) and P7M attachments

PocketPEC is available for trial to all users for 30 days; the trial version is only limited in time

PocketPEC implements the following features:
- Directly displays the contents of the original message (EML)
- Displays the contents of P7M attachments and related signatures
- import PEC account form ThunderPEC, using the Transfer Account function
- Search a public/government office PEC address by means of the DigitPA Open Data infrastructure (spcdata.digitpa.gov.it)
- Simplify the configuration of the PEC mailbox through a wizard with preconfigured parameters of some PEC providers (eg Aruba, Legalmail, Postecert, Actalis, KPNQwest)
- Verifies the digital signature of the PEC message, inserted by the PEC provider, and provides functionality for viewing the details of the difgital certificate associated with the signature.
- View, both in simplified form and original, transaction data contained in XML (daticert.xml) associated with a PEC message
- Manages IMAP Folders, associated with the PEC account
- Synchronize sent mails on precofigured PEC accounts (such as Aruba, Legalmail, Postecert, Actalis, KPNQwest)

More details are available on the website www.pocketpec.it

Recent changes:
La versione 1.4.1 di PocketPEC, la PEC su Android, segnala quando lo spazio utilizzato delle tue caselle di posta certificata supera la soglia da te impostata.
Potrai controllare, semplicemente, nella schermata principale che contiene l'elenco delle caselle PEC configurate, le informazioni relative allo spazio utilizzato e alla dimensione della casella PEC. Questa informazione è associata ad ogni singola casella di posta certificata configurata e si aggiorna automaticamente.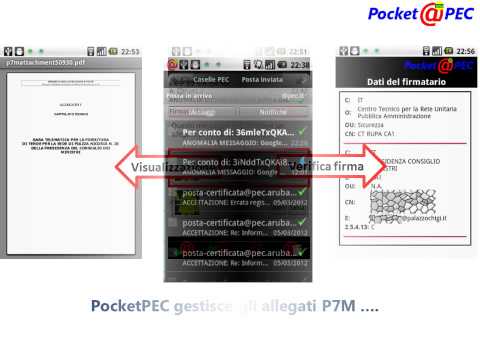 Write the first review for this app!