PocketPEC (trial)
PocketPEC is an Android application designed to simplify the management of italian Certified Electronic Email system (Posta Elettronica Certificata: PEC), PCT (Processo Civile Telematico) and P7M attachments

PocketPEC is available for trial to all users for 30 days; the trial version is only limited in time

PocketPEC implements the following features:
- QuickXML to access directly to XML content
- Notifications on PCT receipt
- Notifications on mailbox quota
- Directly displays the contents of the original message (EML)
- Displays the contents of P7M attachments and related signatures
- import PEC account form ThunderPEC, using the Transfer Account function
- Search a public/government office PEC address by means of the DigitPA Open Data infrastructure (spcdata.digitpa.gov.it)
- Simplify the configuration of the PEC mailbox through a wizard with preconfigured parameters of some PEC providers (eg Aruba, Legalmail, Postecert, Actalis, KPNQwest)
- Verifies the digital signature of the PEC message, inserted by the PEC provider, and provides functionality for viewing the details of the difgital certificate associated with the signature.
- View, both in simplified form and original, transaction data contained in XML (daticert.xml) associated with a PEC message
- Manages IMAP Folders, associated with the PEC account
- Synchronize sent mails on precofigured PEC accounts (such as Aruba, Legalmail, Postecert, Actalis, KPNQwest)

More details are available on the website www.pocketpec.it , on blog pocketpec.wordpress.com or Facebook facebook.com/PocketPEC

Recent changes:
La versione 1.6.0 di PocketPEC, la PEC su Android, implementa la gestione delle ricevute FatturaPA e la loro visualizzazione.
L'arrivo di un messaggio PEC, contenente una ricevuta FatturaPA, è segnalato nell'area delle notifiche del dispositivo dal simbolo €.
Questi messaggi sono caratterizzati da un nuovo flag che indica il tipo di ricevuta secondo quanto previsto dalla normativa.
Aggiunto il supporto penwindow e multiwindow.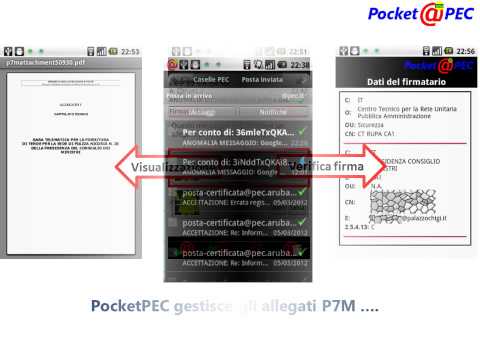 Write the first review for this app!