Pop! Control Your Data.
Pop! A data wallet like no other.

You share your personal information with so many businesses, leaving behind a long trail of sensitive data. Securely store and keep track of all the things you get asked but can never remember, like 'what's your drivers license number?' or 'what's your passport expiry date'? The more data you keep in Pop!, the more useful it will be when using Pop! to transact instantly.

POPULATE

Here's the cool part. The Pop! Web Browser makes filling tedious forms on your phone a breeze and keeps a record of the data you send. Or transact instantly and securely with a growing number of participating companies with Pop! Codes™, making your Pop! data wallet increasingly powerful.

SECURE

Your data is stored securely on your phone and not in the cloud, it's PIN protected and secured using military-grade encryption, so you'll never have to worry about who's going to get their mitts on it. If you ever lose your phone, just login from this site, and you can remotely wipe all of your data. Genius.

BROWSE & SHOP

Shopping on your mobile currently means small screens, tiny keyboards, navigating from field to field only to click on the wrong area and end up on another site… With the Pop! Web Browser those tedious forms are standardised in an easy to view format and, with your information stored in Pop!, checkouts and other forms are filled instantly! You'll also have a record of the data you gave to that company.

CHOOSE WHO YOU UPDATE

Every year 12% of us move house, 39% of us change jobs and 33% of us have a credit card that expires. That's a lot of out-of-date data we have out there in the world. Pop! tells you who you're out of date with and can let you update them instantly. Even if there are companies you mightn't send your latest data to, it's always important to know who has what.

FEATURES

- Your data is encrypted and securely stored only on your phone and not in the cloud
- Login to the Pop! User Portal to remotely wipe your data if you lose your phone
- Fill any mobile web form instantly in the Pop! Web Browser
- Keep track of where you send your data
- Instantly update participating businesses with your up-to-date data
- Transact with a growing number of businesses by entering Pop! Codes™

LET'S POP - THE MORE YOU POP!

The more you 'pop' forms in our browser, the more our technology improves the experience. We've spent over 12 months mapping hundreds of thousands of forms, that's human intervention writing specific rules for individual forms so you can fall in love with the act of shopping on your mobile! If you find a form that's not mapped yet, simply click the "Hey Pop!, fix this form!" link and we'll make sure it's perfect for your next visit!

Tell your friends about Pop! and together we'll get more businesses integrated, ultimately saving you time and giving you more control of your data. So lets Pop together!

Pop! - Control Your Data.™
www.letspop.com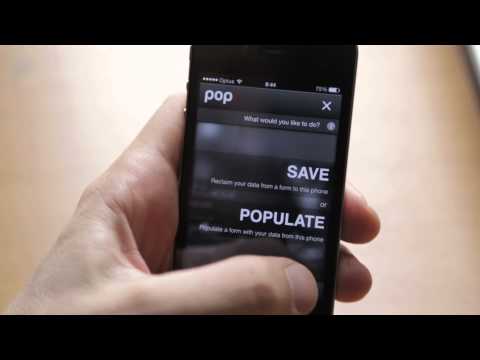 Write the first review for this app!