Did you develop this app? Access more services »
R2D2 Space Resque
The aim of each level is to rescue the Yoda who is held at the end, simply by walking into them. However, actually getting to the Yoda is easier said than done. You can move left and right by tap the screen. R2D2 also has a jetpack which allows him to fly, although it does have limited fuel. To move down, you simply walk off the edge.

There are several different types of aliens about as well. Fortunately, R2D2 has two weapons at his disposal; a laser, which has quite a short range but can be used on the aliens, and several time bombs, which can be used to blow away any walls that block your path.

Long press on fire button place the bomb.

You must also be careful not to touch the lamps, otherwise the screen will go completely black for that room you are in, and you will have to try and guess your way through.

After each 5 level you can save you back and start from this level later, use "Reset game" to choose start level.

Recent changes:
1.12
* Bug fixed file load after pause

1.11
* Texture optimization

1.10
* Fixed text inside the game

1.8
* Bug with infinite life fixed

1.6
* Bomb bug fixed!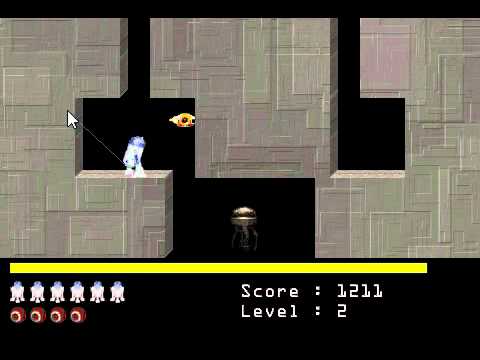 Write the first review for this app!
No comments in the Android market yet