RailCal RAC/Waitlist Calendar
RailCal is a single-purpose app with a focus on showing the FULL Indian Railways Seat Availability Calendar for the next FOUR Months, for ALL trains between any two stations.
.
RailCal shows Waitlist/RAC Status and the number of Available Seats for ALL classes on ALL trains between ANY two stations for the next 4 months - all on ONE screen.
.
Also available:
1. FULLY Offline Train Schedules.
2. Intermediate passing-through Stations.
3. Graphical Rake Display for individual trains.
4. Train Ratings: Cleanliness, Punctuality, Safety, RailFanning, Food.
5. Rake/Loco Reversals.
6. Locomotive info.
7. SplitCal - Train Availability Calendar through "via" stations - also available on a SINGLE screen.
8. MultiCal - For any single train, get simultaneous Availability Calendars between different pairs of stations.

Recent changes:
New Feature:
Bug fixes.
Train Ratings.
Pinch-to-Zoom to enlarge Calendar text.
New menu item - Home - to revert back to the home screen.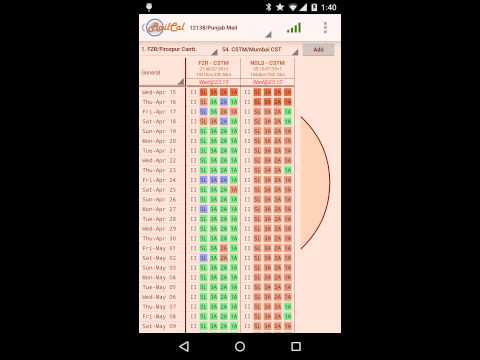 Write the first review for this app!