Real Time Tracker 2
Welcome to Greenalp. With this app you can essentially do two things:
1.) Show your own location live on Google Maps. This way your family and friends always know where you are and that you are safe.
2.) See the location of your friends and family members right in the app. Just ask them to install this app.

Additionally this app provides tons of extra features which is why it is one of the most popular real-time gps trackers for Android. Please have a look at the feature list below.

If you are a business user you might be interested in the new feature "Track 4 Business". With this feature you can easily provide a real-time "Track and Trace" service to your customers.

This app supports multi language mode. If your native language is not supported yet please join the translation community: http://www.getlocalization.com/rtt2/

Examples this GPS Tracker can be used for:

- Show your outdoor trip live to your family & friends. They can track you in real-time while your are running, hiking, biking, paragliding, or just traveling by train or car.

- Track your family & friends. Ask them to install this GPS Tracker and you can track each other in real-time.

- Latitude replacement: The default configuration needs more battery. If you want to save battery just increase the update interval or use cell tower locations instead of GPS. Support is available in the forum.

- Embed your map into your website or blog.

- Track your dog: Why buying expensive pet trackers? Use a cheap Android phone and put it on your dog. You can see your dog's location on the map in real-time.

-Track and Trace: Provide a live tracking service for your customers. Useful for leaflet and other companies (pizza delivery, etc).

-Educational: Students use this tracker to track their weather balloons.

New features provided by RTT2:
- Brand new Google Maps version (Google v2)
- New base map: Google Terrain
- Multi map mode. Add more than one map on the same screen. Perfect for auto-following more than one user at the same time.
- Improved user interface navigation
- Improved messaging user interface
- Auto-read incoming messages

Other supported features:
- Provides details like speed, elevation, battery level, etc. Just click the icons on the map.
- Send messages to your friends or to the viewers on the website.
- Supports Google Maps and OpenStreetMap.
- Supports map integration in your private homepage.
- Supports autostart.
- Supports remote start via text message (SMS) or just via the web portal http://www.greenalp.com . Great for battery saving.
- Supports various remote commands you can send via web portal. Ideal for tracking your children or your pets.
- Support up to two KML layers.
- Supports control via location aware apps (as for example Llama or Tasker)
- Supports an ad-free version. Just choose "1-year ad-free" in the menu.

Because of those many features this GPS Tracker requires several permissions. If you would like to know
why it needs these permissions please read the Greenalp Privacy Statement: http://www.greenalp.com/RealTimeTracker/index.php?page=privacy

You are not allowed to use this GPS Tracker for illegal activities. Don't track people without their agreement! If the tracker is running it will always show an icon in the status bar. Please don't send requests to hide the icon. The icon will stay visible for security reasons.

In case of problems please send an email to Greenalp Support or use the forum. You will receive great support there. If you like this application it would be great if you could send a positive rating. Thanks.


Keywords:
- Live tracking
- GPS Tracker
- Real Time Tracking
- Track and Trace
- Door to door visibility
- Latitude replacement
- Pet tracker
- Remote control
- Google Maps
- Open Street Map (OSM)
- Remote start (SMS)
- Google Cloud Messaging (GCM)
- Educational

Recent changes:
- New supported languages: Swedish, Portoguese, and Italian. Thanks a lot to all translators. Translation errors can be correct at http://www.getlocalization.com/rtt2
- Google Street View integrated. Note: works only in certain geographic regions
- New feature: auto-send messages. When you send your guest url to your friends you can save the message optionally as auto-message. Auto-messages are sent automatically on every service startup.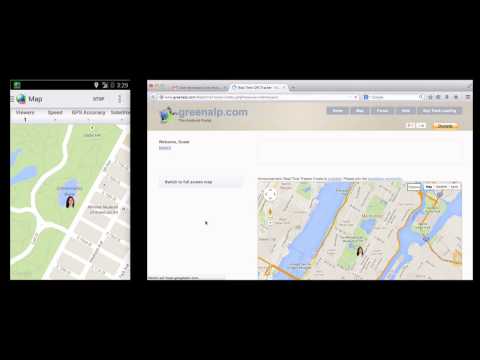 Write the first review for this app!