Recruiting and Social Sourcing
Only desktop and mobile applicant tracking system and social recruiting solution.

Find the best candidates first from your collection of formatted resumes and social sites with a learning artificial intelligent virtual recruiter and accurate big data search results: on your desktop, tablet or mobile phone.

Collaborate with managers in real time using a Hiring Team Portal. Allow hiring teams to view resumes on their mobile phones during interviews.

Candidate engagement is made easy by allowing people to see how their resume looks to a recruiter and instantly apply. Send job recommendations, phone screens, and interview reminders using a Candidate Portal.

• Applicant tracking
• Social sourcing
• Learning virtual recruiter
• Accurate search results
• Formatted resumes
• Outlook integration
• Contact resource management
• Job posting
• Hiring team portal
• Candidate portal
• One cloud based website for use on your desktop, laptop, tablet, or mobile phone.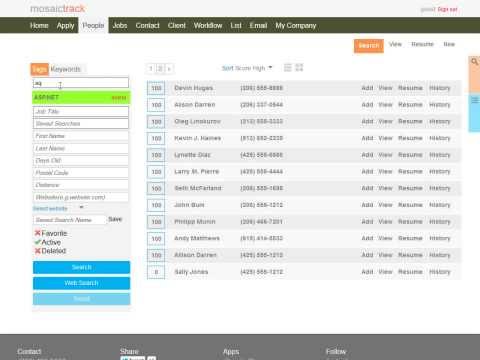 Write the first review for this app!