Revunote for Evernote
Revunote works with Evernote to help you learn things off by heart using 'spaced repetition'. Some things are more useful in your head than they are in the cloud.


"If I don't review I might as well not have spent the time learning in the first place. My problem has always been keeping track of what to review and when. Thankfully Revunote with Evernote makes it really easy."

Easy to use:
Step 1: Tag the notes (in Evernote) you want to review
Step 2. Synchronise Revunote
Step 3: Review and swipe the notes

"Revunote lets me review at my convenience - whilst I am commuting or anytime I have five minutes to spare."

Benefits of Revunote:
✔ Implements spaced repetition for you (1, 3, 7, 14, 30, 60 days)
✔ Review your notes anywhere. No need to be at your computer or connected to the internet.
✔ Helps you review actively (by recalling) rather than just passively (by re-reading)
✔ Take advantage of spare moments to review your notes.
✔ No messing about with tags; simply swipe and sync.
✔ No messing about with reports. A single list of all notes due for review.
✔ No need to remember what or when to review... Revunote tells you!
✔ Easy to setup.
✔ Picks out the few notes you need to review from among the 1000s you have.

"We are bombarded with information all the time and its so easy to access that we can fall prey to an 'in one ear, out the other' mindset - even toward things we want or need to remember. Revunote helps me to consciously make choices about what I learn."

Benefits of reviewing:
✔ Valuable knowledge is at your beck and call
✔ Contribute effectively in collaborative situations
✔ Stand out as knowledgable in your chosen field(s)
✔ Spend less time cramming
✔ Study more efficiently

"I did a training course earlier this year. I used Evernote to create some high quality notes and I used Revunote to help that information stick. As a result, my ability to apply what we covered is much improved over what it would have been."

Use it to:
✔ Keep current with professional developments
✔ Review lectures, presentations, training courses
✔ Pick up new skills like football, dance or martial arts
✔ Learn lyrics, poems, quotes or jokes
✔ Acquire languages

For students at school, college or university. For professionals engaged in continuous professional development. For people just interested in developing their hobby. Revunote with Evernote is an essential combination.

Features:
- Drives a review cycle at 1, 3, 7, 14, 30, 60 days
- Displays all your notes for review in one place
- Touch to open notes in Evernote
- Swipe to indicate review done
- Synchronises with your Evernote account
- Retains review history in the cloud
- Creates a review tag in your evernote account or synchronises with them if they already exist
- Widget to remind you from your home screen

Note: Revunote is a Free to Trial app (30 days). Thereafter it requires the purchase of an inexpensive key. It has no distracting app-vertising.

Recent changes:
1.14.8-11
Performance enhancements. Fix for out of memory issue.

1.14.7
Applied new Evernote Library (API and oAuth)

1.13.5
Schedule notification on re-boot

1.12.5
Fix to initial authentication with Evernote

1.12.4
Swipe L/R shows what will happen. Scroll prevented if swipe in progress.

1.11.3
Swipe made more tolerant.

1.11.2
ICS Makeover
View the queue of snippets in each category.
Swipe Right to Left to re-present snippets in a few days if recall is poor.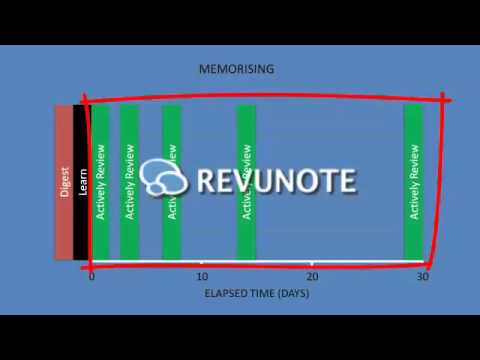 Write the first review for this app!