Ricettario +
Supports English , German, Italian

I created this app because I could not find on the Market a " cookbook " that would allow you to save your recipes and above all there is a recipe in Italian . Most App Cooking report lists recipes copied and translated by robot network or represent a new interface to browse recipe sites .
Recipe on the contrary wants to be a DataBase to save your recipes and to automatically import recipes shared by the users who use the app . The format used for the exchange of recipes is the standard RecipeBook , specific XML for declaration of recipes .
Remember that banner ads are the only source of finance of the App and it would be good practice , if the application meets your expectations , please click on the banner . Alternatively, you can always help the developer performing a payment on PayPal.
We welcome recommendations for new features to be implemented to improve this app , such as the reporting of any application errors .
The first version still has limited functionality compared to the project that I intend to carry on , for now you can save your own recipes in three modes:
• Recipe structured with specified ingredients
• Recipe simplified when you do not have the time to put the ingredients but just to paste a description, perhaps copied from a web site
• Recipe capture, when we are out and about and see a recipe in a magazine paper , you can capture the recipe through the camera of your device .
Features already active :
• Recipe will be able to manage their own recipes for cataloging category and each recipe can belong to multiple categories .
• Recipe manages bookmarks, you can enter the best recipes in the special category "Favorites" .
• Share recipes via Mail
• Search recipes by title and description
• The ingredients are stored and will no longer need to associate them to put back recipes
• Export recipes in standard format RecipeBook http://www.happy-monkey.net/recipebook/
• Import recipes format RecipeBook
Future features :
• Implement interface for Tablet
• Share recipes between App users , you can declare shared and searchable recipes , each user can search through the recipes shared in your db and import the recipe.
• Search by ingredients
• Generation of the list of expenditure according to the selected recipe
• Generate menu ( aggregation of recipes )
• Management of Multilingual
• Read the recipe through tcnologia TTC
• Backing up data to Drive

Recent changes:
ver. 2.07
Risolti alcuni errori segnalati

ver. 2.06
Aggiunta la possibilità di importare e condividere ricette con tutti gli utenti dell'app.
Vai sul menù principale e seleziona Ricerca Ricette Condivise.
Vai sul menù di una ricetta per condividerla con tutti gli utenti.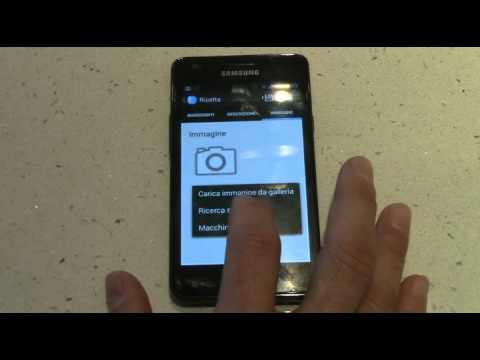 Write the first review for this app!
No comments in the Android market yet