RobotiCode Daily Blend
Would you like a 'daily blend' served up each day, full of uplifting quotes and verses to set up the day nicely?

Daily Blend compliments and works seamlessly with our range of FREE Daily Quote Apps, to bring them all together in one place - Wake up to your daily blend served to you in a single notification and clean interface. No clutter on your Notification bar! NOW ALSO AVAILABLE ON YOUR SMARTWATCH TOO as a stacked notification showing the full verses!

HELPING SUPPORT THE MINISTRY:
In buying Daily Blend, you're also helping to further the ministry to bring the freely accessible daily Bible products to the masses. Thank you :)

SERVE YOUR BLEND RIGHT ON TIME:
Change the time of your daily blend to suit your daily routine, and even play a repeating alarm sound when it comes in.

NO MORE ADS!
With the built-in Ad Blocker, there's also more reading space - and no more advertisements in with the Daily Quotes.

NAVIGATE WITH EASE:
Daily Blend also adds a button into each Daily Quote app to allow you to navigate quickly and smoothly to the Daily Blend screens and between all your quotes or verses easily.

NOW WITH SMARTWATCH NOTIFICATIONS AND READ ALOUD FEATURE - RIGHT FROM YOUR WRIST!

AND THERE'S MORE!
We are continuing to develop this with more great features. Check for updates regularly.

Don't forget to get all our latest free Daily Quotes apps to compliment each other through Daily Blend (You must have the latest version for them to work with Daily Blend properly).

Recent changes:
* Added Smartwatch features! Full stacked verses and read-aloud directly from your wrist!
* The status-bar notifications now have a verse summary in their expanded view.
* Verses may be read-aloud to you by long-clicking from the list.
* Full-screen mode, for more reading space.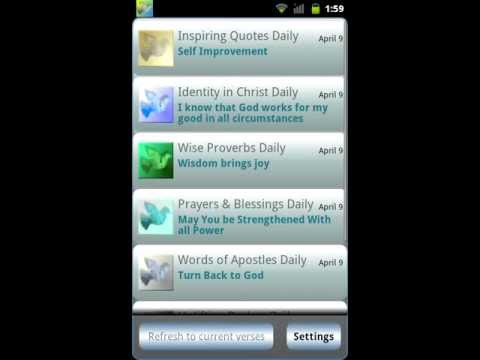 Write the first review for this app!