RSS Voice Reader
RSS Voice Reader Lite is demo version of real RSS voice Reader. The full version you can find on slideme.org/application/rss-voice-reader .

This application installed on mobile phones provide voice access to any user-selected RSS feeds. The application allows not only view the articles in traditional way, but allows also to listen to articles content (in this demo version it reads out only 200 first characters from article) thanks to the text to speech technology. You can listen to the full article or portion by selecting text to be read. RSS Voice Reader has been created for people who frequently move with mobile phone or carry out activities which prevent them from reading Internet news or for whom reading the content of Internet on the phone is difficult due to the small size of the display and navigation difficulties hampered by the small dimensions of the device.

Currently, mobile application RSS Reader can be installed on iPhone. Application is used as a standard RSS reader using typical options for RSS feeds like adding, removing the RSS feed. All downloaded article content is immediately ready for listening. User by clicking Read button can listen depending on screen to the screen content, to the titles of unread articles or to the names of RSS feeds. The application allows to change parameters to control which the way of generation a synthetic voice such as the choice of voice (male / female), timbre of voice, etc.

RSS Voice Reader application solves the problems associated with viewing Internet resources on mobile phones. Solves problems that make reading standard of the mobile screen due to its small surface, difficult navigation for your small buttons. This kind of access to information seems a natural for mobile phone users. This application enables mobile phone users to perform other tasks in parallel while listening to Internet browsing.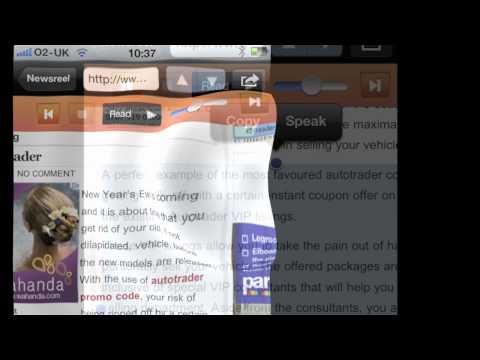 Write the first review for this app!