Samurai Siege
SAMURAI SIEGE is a highly addictive combat Strategy adventure with over 3 million players worldwide.

★★★★★ - "I'm loving the wars between alliances! Now my favourite game!"
★★★★★ - "Samurai Siege is fresh, unpredictable and extremely addicting"
★★★★★ - "Wonderful graphics, challenging campaigns, and great community".

Lead an army of Samurai, Ninjas, and fantastic monsters of the East to glory! Build your village into a mighty stronghold! Raise powerful armies! Fight against other players!

Please note that Samurai Siege is free to play. Some in-game items can be purchased with real money. You can turn off the payment feature by disabling in-app purchases in your device's settings.

Samurai Siege is a fun multiplayer combat strategy game. Defend your village against hordes of enemy ninjas, samurai, and creatures! Explore a mystical world as you battle through lush forests, snowy mountains, and deserts. Fight other players from around the world to capture loot and steal rare items. Or join forces with other players to create the most powerful Alliance! Wage war with other alliances and compete to dominate the realm.

FEATURES
* Epic real-time strategy combat
* Build your humble village into a mighty stronghold
* Recruit an army of Samurai, Ninjas, Battering Rams, and Eastern Monsters
* Clash and Battle with other players online
* Rid the world of evil as you travel across a vast world map
* Fight in multiple environments: from lush valleys to rocky mountains
* Create Alliances or Clans with other players
* Alliance Wars! Declare war on rival Alliances and compete for valuable rewards


Note: a network connection is required to play


Terms of Service:
www.spaceapegames.com/terms

Recent changes:
Prepare for CONQUEST! Coming soon to Samurai Siege a brand new, revolutionary way to war is on its way to a village near you! Decimating your foes in Conquest will earn ALL NEW CURRENCY which can be used to purchase new goodies and, for the first time ever, PREVIOUS TOURNAMENT PRIZES.

Additionally, there has never been a better time to be at castle level 10!! We have made drastic changes to war points that encourage the most elite samurais to compete at the highest level of battle!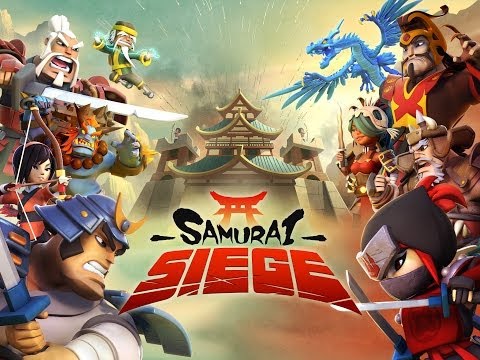 Write the first review for this app!