Santa Offroad Jetsky
Santa Clause & the Christmas Gift Jetski Ride Free : Fun Holiday Season
You better watch out because santa is coming to town.
But this santa is a REAL gangster...

Be the first to see Gangstar Santa to hit the road hours before the night of Christmas eve. But wait it is not just those chimney and awake children that he worry too much but it is those elves who can't stop thinking those toys they create even polar bears and deer that is being bad for the year. Ganstar Santa is coming to town. Yo yo yo

Gangstar Santa Offroad Jetsky Patrol is a fast paced endless running game where you have to destroy all coming enemies and avoid getting killed. Enemies can vary from evil elves to polar bears in strategical places to cause as much hurt as they can. Use your skill and unlimited fire power to destroy those obstacles and deliver those gifts on time.

This all-new awesome game features some really cool stuff:
*Great game play, sounds and graphics?
*Awesome fast paced action?
*Special IAP Novice Mode - Use this IAP to play with out dying!

Download and play with the Gangstar Santa Offroad Jetsky Patrol game today and become part of our community. If you love Santa game join others in the Gangstar Santa Offroad Jetsky Patrol make sure you visit our Facebook page!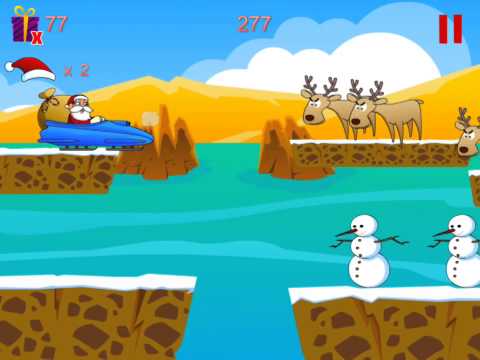 Write the first review for this app!