Scholarley (Beta)
Scholarley is an unofficial Android client for Mendeley; which is a free and convenient application for managing your library of academic papers (see: http://www.mendeley.com/). Scholarley has been designed for both Android phones and tablets.

Mendeley has started talking about disabling the version of the API used by Scholarly in favour of a new and better API. When that happens, Scholarley will no longer function. By that time, it is my expectation that Mendeley will have released an official Android client. I had planned on open sourcing Scholarley, but life (including my son and my PhD) has kept me from doing so. Updating Scholarley to the latest API is a considerable task, and one I do not think makes much sense; since Mendeley's official client will be able to do much more than is possible due to commercial backing (including in-app annotations). I will contact Mendeley and request they hold off on discontinuing the old API until such time as the official client is ready.

Features
Scholarley's current features (★ indicates in-app upgrade is required):
- Authentication with Mendeley using OAuth.
- Streamlined synchronisation for even large libraries with thousands of documents.
- Viewing of document details in a refined format.
- Opening documents and attachments of any format provided that your Android device supports them. An external PDF viewer is required for viewing PDFs.
- A convenient user interface which supports filtering documents by:
- (sub-)folder
- group
- author (with smart deduplication)
- tags
- And support for sorting documents by title, author, citation key, date of addition to library, and date of last modification.
- Full offline synchronisation of your Mendeley library (including, at your option, PDFs and attachments).
- Complete interface for making local changes to document metadata, with undo capability.
★ Full two-way synchronisation of document metadata.
★ Document creation and attachment upload to Mendeley. [Experimental]

Development Status
Due to Mendeley's plans for an official app, and the upcoming deprecation of the API used by Scholarley, development on Scholarley has ceased. Please enjoy using Scholarley until the official client is released.

Subsidisation
Scholarley was originally intended for my private use only. Since then, at the requests of many people, various features have been added. Although no longer under active development, activation of these features will remain billed at a reduced price of AUD$3. Once Mendeley releases their official client, and it satisfactorily supersedes Scholarley, Scholarley will be removed from the app store.

If Scholarley does not satisfy your needs, please do consider alternative Mendeley clients for Android such as Droideley and Referey.

Recent changes:
0.9.9.18 -> 0.9.9.19:
- BUGFIX: Properly allow refreshing of access token.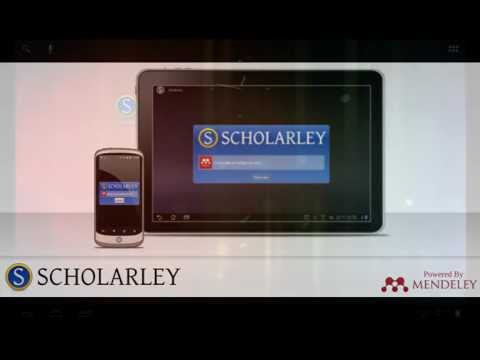 Write the first review for this app!