Scion Paper Shapers
The Scion Paper Shapers project ("The App") is an entertainment application for Android tablets that allows Scion enthusiasts to personalize and configure one or all 5 Scion models (ranging from iQ, xB, xD, tC, FR-S). The user will be able to save the personalized model and; 1) Save as Image, 2) Email Image, 3) Upload to Facebook, Twitter, Instagram and 4) Print (via wifi), 5) Cut-out the template and 6) fold it into a Scion Paper Shaper!

The output will allow user to cut-out a diagram of the printed version and fold it into a paper shaper or craft of the chosen Scion model. Details of the modeling process will be illustrated with step-by-step instructions. These details will also recommend the paper stock best suited for this modeling process. The output can also be saved digitally on Android devices, emailed or uploaded to a social site like Facebook, Twitter and Instagram.

The App will consist of several menu options; 1) Choose your Scion – selecting 1 of 5 models 2) The Garage – work area where personalization will occur, 3) The Showroom – review of 3D model (with 360 degree view), 4) The Finish Line –save, email or upload digital copy and print options. Other Sections of the Scion Paper Shapers App will include the ability to add your own custom background by adding pictures from the device's Photo Library.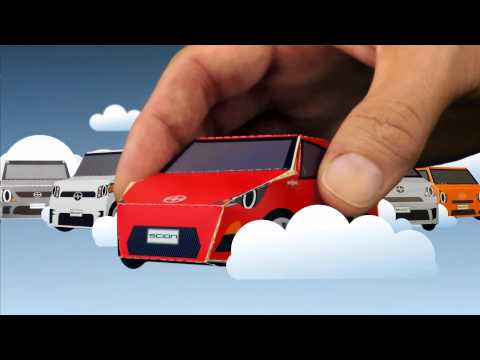 Write the first review for this app!