wksApp
You can calculate elbows, protractors, cones, transitions and oblique taps with this app. Classic elevations are not needed anymore!
Angles measured with a Folding rules may be used in an easy way as well.

Available languages:
German, English

Tags: wksb android aufriss segmentbogen schmiege trichter stutzen schrägstutzen übergang abwicklung bogenabwicklung segmentbogenabwicklung schmiegenabwicklung bogenaufriss schmiegenaufriss isolierer isoliertechnik spengler feinblechner lüftungsbau dachdecker wcsb elevation protractor, cone, transition, oblique taps angles folding rules isolator roofer slater tiler

Recent changes:
New in this version:
English translation. The language will be loaded out of the system settings, or may be chosen manually via the settings screen.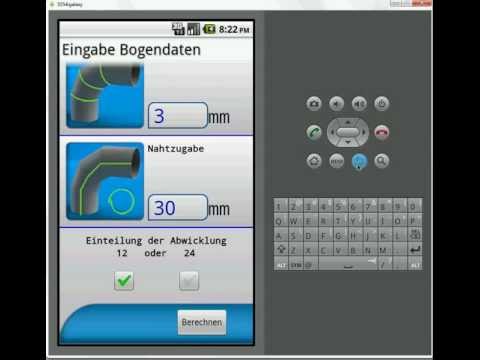 Write the first review for this app!
No comments in the Android market yet