Sheriff: Anti-Tamper Alarm
Highly rated movement and sound detector with loud alarm, spoken warning or customised recorded message. CCTV feature allows you to video record the moments after the alarm triggers, and an un-tether alarm can also trigger if the phone gets unplugged from charger/dock.

Many sirens to choose from, or use either speech synthesis for a spoken warning, or record your own message!

Capture the surprise on your friends face as they grab your phone, or start camera snapshots in a room after noise is detected!
___________

★ Cute Home Screen Widget to conveniently arm/disarm.
★ Spoken or chime countdown.
★ Monitor room noise, phone movement, phone un-tether.
★ Custom spoken warning message using Android built-in Speech Synthesis.

New features:
★ Full camera snapshots.
★ Record custom warning messages.
★ Change accent/gender of Sheriff for spoken warning.
★ Cool new alarm siren sounds.
★ Un-tether alarm.
___________

Prank your friends as they try to mess with your phone or bag, or as they make a noise in the room.

Yes, the original and loved 'Sheriff Android' is back!

ONLINE INSTRUCTIONS:
www.roboticode.co.uk/instructions
___________

Recent changes:
v4.2.3
Due to popular demand, we have made notification-bar arming completely optional, as some people did not want it running constantly. The product will install with it disabled, and you can turn it on if you wish.

v4.2.2
* Added PIN protection of alarm.
* New Notification-bar icon for arming/disarming.
* New interface and theme.
* Replaced some experimental camera features.
* Improved the camera snapshot browser to include deleting of images.
* Added image rotation feature in settings.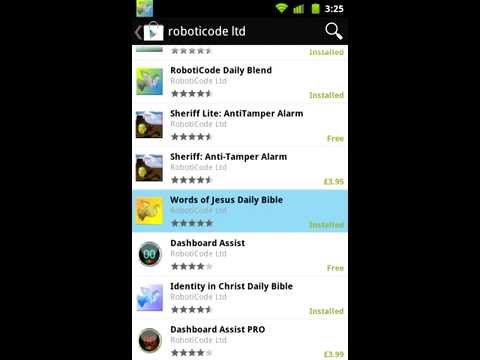 Write the first review for this app!