Shift Schedule
Shift Schedule - the app with an alarm clock for shift workers, which helps to make and trace of working shifts for any period of time, using handy multi-team represenation of schedules.

Users' Manual:
http://shapp.16mb.com/usersmanual/

The app is FREE TO USE if you need periodic schedules only. If you need non-periodic/individual schedules, you need install the donation key. You WILL HAVE ACCESS to non-periodic schedules EVEN after trial period expiration. The only restriction is what dialog with donation information will be shown.

Main Features Include:
- Independent alarm clock for each shift.
- Easy schedule setup.
- Easy schedule sharing with friends.
- Fully customized colour configuration for each of the following: calendar text including current calendar, previous month, next month, current day, week day, weekend, days off, days working, night shift, day shift, swing shift if applicable, full or partial colour for each day.
- Pay dates are also selectable based on times per month or payday every so many days.
- Selectable beginning of the week Monday or Sunday
- Widget for quickly seeing schedule and accessing application.
- Quickly change to another Team if you get switched as you will program in how many Teams work at your facility on the same rotation.
- Custom shift start/stop time with monthly hour and number of shift calculations.
- Quick and helpful developer assistance!


All features are available during two weeks trial period. After that you need to install the donation key or you can continue using periodic schedules only.

Recent changes:
Holidays accounting. Some changes in Alarm Clock.
* Show Holidays feature. Holiday hours accounting in Month Statistic window.
* "Can't disable alarm playing" bug fixed.
* Flip device to dismiss / snooze alarm.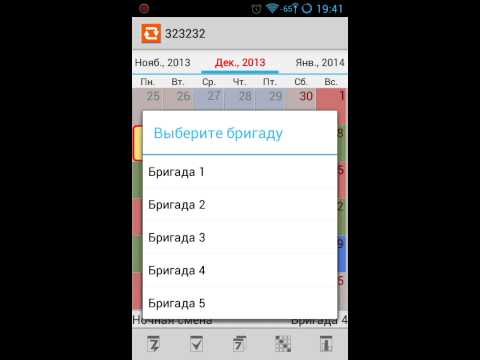 Write the first review for this app!