SmartPay Demo
This is the DEMO VERSION of the SmartPay Mobile Payment Interface, which is to be used for product testing. It is being released for product testing purposes ONLY at this time. For those who download and try out the DEMO app, the live app will be released automatically to your Droid Smart-Phone. The live release of SmartPay uses PayPal to process the actual merchant payments. ANYONE with a PayPal account can use the live release of SmartPay to make a payment.

INSTALLATION INSTRUCTIONS: Installation instructions can be found at:
https://demo.smartpayusa.com/Droid_Install_Google.pdf

SETTING UP YOUR ACCOUNT: A video showing how to set up your account can be found at: http://youtu.be/FFBm64WousE

USE CASES: Interactive examples of how SmartPay can be used to pay merchants and vendors can be found at the the following link: https://demo.smartpayusa.com/merchants/downloads/MerchantUseCases.pdf

LIVE MERCHANT TESTING: Limited live merchant testing is being conducted. Interested Merchants please contact us at:
http://www.smartpayUSA.com

NOTE FOR PRODUCT TESTERS OUTSIDE THE UNITED STATES: This version requires you to enter a U.S. State. You may enter any state. Some countries do not have Postal Codes. If you country does not, just enter 00000 in the field for postal codes.

REPORTING PROBLEMS: Active SmartPay app testers will by given special pricing incentives (details to be announced later)as a thank you for their participation in helping us make our Mobile Payment Interface product the best that is can be. To be considered "active" you must do at least one of the following: 1. report a software "glitch"; 2. give us input on how to improve the app; or 3. let us know that you found no software glitches. When reporting, please include your phone's brand, model, and operating system version.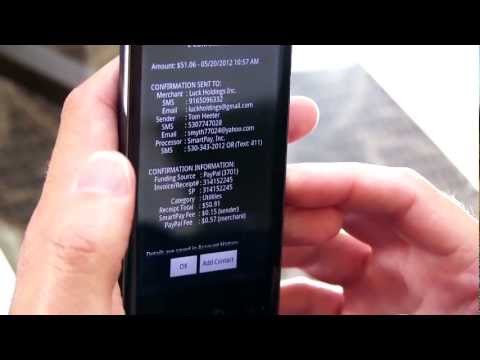 Write the first review for this app!
No comments in the Android market yet