Speak For Me App
Working on an update. Please review so we can know if you prefer Yellow or White for the Text Background. Other ideas ? You will soon be able to save a list of phrases/ sentences for later use or for when you're on a call. Thank you for all your reviews.

Have your phone speak for you.
Helpful if you have lost your voice or need another Communication method.

Maybe you want to speak another Language.

Maybe you have a sore throat and can't speak.
Did you have your tonsils taken out? Are not feeling well?
Have your phone speak for you.

App will now speak your text in English or Spanish Offline.
When Online, Google Translate can translate and speak your text in almost any Language :)

Simply enter the text in the text field and press speak for me. Your text will be converted to an audible voice.

Say I love you. Say yes or no. All without ever moving your lips.

Now you can share text .
Shake Android or press a button to have your phone speak for you :)

(Offline Features)
-Multi-line text input
-Change the speech rate.
-Change the speech pitch.
-Change to English voice.
-Change to Spanish voice.


(Online Feature)
-Quick push button for Facebook, YouTube, Twitter,
-Quick push button for TTS Engine (For Android 3.7 and lower).
-App now has a quick push button for Google Translate. Listen to text in almost any language.

Contains Ads.
Get it without Ads here:
http://play.google.com/store/apps/details?id=appinventor.ai_stuffjustforkicks.SpeakForMePro

http://play.google.com/store/apps/developer?id=Mad+App

Recent changes:
Now speaks in English and Spanish voice.
You can now access Google Translate with the push of a button. +
We have redesigned the layout. We hope you like it.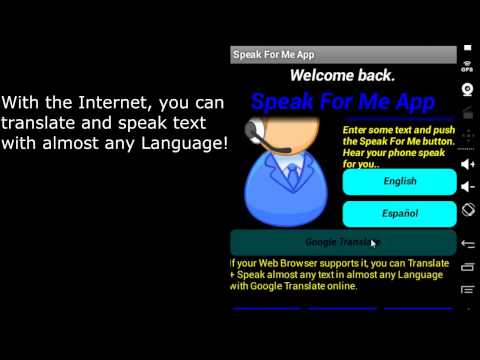 Write the first review for this app!