Squeezer
Remote control for your Logitech Media Server ("Squeezeserver" etc) and players.

Features include: Playlist control (now playing, shuffle, repeat, save/clear/modify playlists), artwork, seeking within tracks, volume control; browse the library by artist, album, song title, genre, year, playlist, favourites, or new music; Full library search; Internet radio support (browse, staff picks, search); Browse Squeezeserver music folders; Download tracks; Support for password protected servers.

Squeezer is free, and open source.

Recent changes:
* Include a small progress indicator just above the mini-player.

* Tapping items when browsing music folders will follow your song preferences. Fixes https://code.google.com/p/android-squeezer/issues/detail?id=52.

* Added an option (disabled by default) to include your e-mail address in error reports. If enabled and you send an error report the developers may contact you for more details.

* Fixed a crash where beginBroadcast() was being called twice.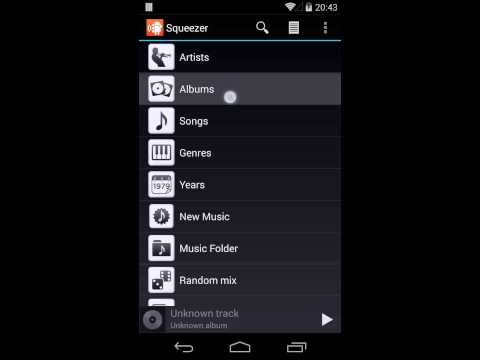 Write the first review for this app!