Squeezer
Remote control for your Logitech Media Server ("Squeezeserver" etc) and players.

Features include:

• Browse the library by artist, album, song title, genre, year, playlist, favourites, or new music.
• Playlist control (now playing, shuffle, repeat, save/clear/modify playlists).
• Manage players, and groups of players.
• Full library search.
• Internet radio support (browse, staff picks, search).
• Browse Squeezeserver music folders.
• Download tracks to your device.
• Support for password protected servers.

Squeezer is free, and open source.

Recent changes:
* Support skipping tracks in remote streams that have that feature, such as Slacker Radio.

* Configuration now searches for servers, saves connection information per-server, and numerous other fixes.

* Remove incompatible characters from downloaded files when exporting to Windows and similar systems.

* Fixed issue with plugin icons.

* Fixed issue where Internet radio stations were not working on servers running v7.8 or above.

* Fixed issue where player progress stopped..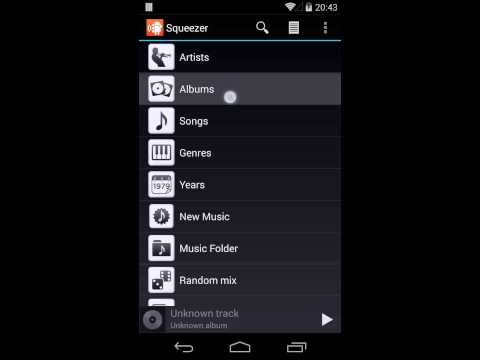 Write the first review for this app!