Squash Score Board Squore
Supports you in refereeing a squash match.

Features:
• clearly displays the current score (allow showing it to the players through the glass)
• shows what side a squash player is supposed to be serving
• indicates if the last point was a hand-out
• has a simple undo button (we all make mistakes)
• option to see scoring history of each game in a graph
• possibility of using 'warm up' and 'between games' timers (with optional sound/vibration notifications)
• possibility of showing 'injury' timers
• option to show 'official' squash match announcements (begin/end of game, end of match, tie-break)
• option to record appeals for a let as well as conducts, and your decision for them
• list possible conducts warning/stroke possibilities
• has the possibility to recall the entire score sequences of all games of a squash match
• support for referee-ing doubles matches
• import/export functionality for previously reffed matches
• transfer 'in progress' match to another device using NFC (a.k.a. S-Beam)
• possibility to customize text size for screen elements
• saves the score (and scoring history) on exit
• can be used in landscape and portrait orientation
• option to share the entire scoring history on e.g. facebook
• option to send the result of a squash match by text message or email e.g. to a fellow club mate
• when sharing by means of email it is possible to include the complete scoring history
• tries to autocomplete player names from your contact list (or just one group of your contacts)
• remembers previous entered player names for auto completion for next matches
• remembers all matches you refereed (to recall later, e.g. to note down game scores on official papers)
• specify a color per player (e.g. of the shirt they play in)
• define matches up front for easy selection later
• option to use different tie-break formats
• customize colors of the app (e.g. to match your club colors)
• official WSF squash rules link in menu (configurable)
• specify feed URLs to allow selecting matches/players (in stead of typing in names)
• post a result to a configurable website (ask the web-master of your club)
You may check with your web-master if it is possible to have one or both of these last two options made available

Permissions:
• Read Contacts: for autocompleting player names when setting up a match
• Network Access: for reading matches/player names from a feed
• Vibration Control: mainly to notify you that a timer has (or is nearly) finished

Online Help:
http://www.double-yellow.be/help/scoreboardapp.php

Recent changes:
- Added a `Select new public feed...` menu option on 'Feed' tab of 'Select Match'
- E.g. tournaments maintained at [toernooi.nl](http://toernooi.nl/tournamentlist.aspx?id=1) will be selectable as a feed here
- In the `Select Feed` you now have the option to delete Feeds you don't need anymore or are no longer valid

- When selecting 'Import' menu option, you now have the option to delete 'old' export files.
- You can now export and import your settings.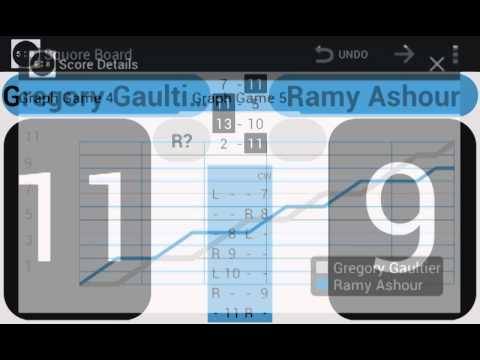 Write the first review for this app!