Star Nomad: RPG RTS Sandbox
"An interesting tale with a few surprising twists that will satisfy even the most avid space opera fan." - Hardcoredroid
"It feels like a populated world and in someways borderline MMO" -IGM
-
Star Nomad is a top-down Role Playing Strategy Sandbox. It was created as a tribute to classic sandbox spacesims of old such as Wing Commander: Privateer 1 & 2, Escape Velocity and Freelancer.
-
Roam free in a universe rich in story and humor. Be a mercenary for hire, merchant trader, contraband smuggler evading the law or even a pirate making your fortune and fame (infamy) in the Wildlands Sector.
-
If you love games such as Space RPG, Star Traders, Space Rangers, Space Pirates & Zombies, Drox Operative, Transcendence, FTL or the upcoming Star Citizen you will probably love Star Nomad.
-
Now on PC/MAC too! https://indiegamestand.com/store/1092/star-nomad-rpgrts-sandbox/ & http://www.desura.com/games/star-nomad-rpg-rts-sandbox
-
In the next update: An all new story branch with epic missions for those who have completed the current story line. A new HQ in New Kyoto offers very challenging & rewarding missions! There's rumors Kikyo Yamada is developing the Yamato Battleship Mk2!
-
[IMPORTANT] Startup takes ~20 seconds to load all the assets, in-game transitions are instant. CyanogenMod not supported. Permission Wake_Lock is there due to a bunch of devices crashing without it. Please exit Star Nomad once you finish playing to conserve battery.
-
[IAP] I've endeavored to create a game that's balanced to play right through without requiring any IAP purchase. Trading & Missions (or smuggling & yarrr'ing!) are very rewarding & gameplay is balanced for all the available ships.
-
There are two consumable IAPs: 1) A bonus Frigate, powerful but cannot use missiles. 2) A "Credits Cheat". These are 100% optional, Star Nomad was designed foremost without IAPs negatively influencing gameplay.
-
[Please Note: Uninstalling will remove all saved data. Starting a new game resets saved data (but keeps Ad remove bonus).]
-
Happy to receive feedback via email, Reddit (SilverforceG) or twitter @AH_Phan
-
[ART (Google's experimental Android Runtime) currently not compatible]
-
GAMEPLAY TIPS @ http://halfgeekstudios.wordpress.com/tips-tricks/

Recent changes:
Minimum specs: 720p+ screen resolution. If it crashes on start (even after memory clean), its incompatible, sorry! I'm working on a fix (please be kind with the 1 stars...).
-
[Updates]
28/07/2014: Critical bug-fixes. Optimization of huge fleet battles (less lag on older devices). Late-game re-balancing.
-
24/07/2014: All new character art, such amaze! Added new turret weapon type & new module type. Increased cargo capacity for the Tengu Corvette, Nadesico & Hyperion Frigates!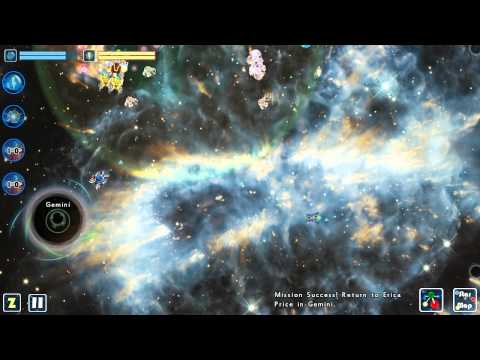 Write the first review for this app!