Super TTT (Tic Tac Toe) Game
Super TTT is a tic tac toe variant with 9 games of tic tac toe arranged in a 3x3 grid. The objective is to win 3 games in a row.

What makes Super TTT different from traditional tic tac toe is an increased level of complexity that translates into a greater strategic experience.

In Super TTT, the placement of each marker determines which game the opponent must play in next.

Example: Player 1 marks the top left space in the center game. Player 2 would then have to mark an open space in the top left game.

At the start of the match, Player 1 may mark any space in any game.

When directed to an already completed game, the player is allowed to mark any available space in any remaining contested game.

If neither player wins 3 games in a row, then the player with the most games won is the winner of the match.

If players have equal wins, then the game is declared a cat's game; a rare achievement.

http://superttt.com
http://facebook.com/supertictactoe
http://twitter.com/supertictactoe

"What an awesome app - Editor's Pick from AppEggs.com"

Keywords: tic tac toe, strategy games, superttt, casual games, fun game

Recent changes:
* Removed Extra Life branding and alert box.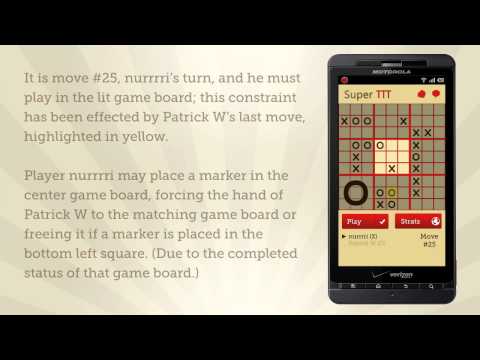 Write the first review for this app!