Survive Mania - Jewels Life
Survive Mania - Jewels Life is a classic Match- 3 (Jewels similar) in which you need to win the zombies , robots, demons , mutants.
In a leading role usual guard one of the many food stores . He was tired , that he had been attacked by someone forever , and generally tired of this life , and so he tries to escape from the bustling city had occupied somewhere in the wilderness - away from problems.
The goal of each level to defeat the enemy and stay alive .

blocks :
Blocks have 4 types.
1. Chucks - Putting in a row blocks of this type , the main character attacks an enemy .
2 . Bottle - Putting in a number of units of this type , the protagonist is a little restores their HP.
3 . Zombie Hand - Putting in a row blocks of this type , the opponents attack the protagonist.
4 . Fences and Stones - Blocks of this type give more credit - money to buy improvements.

shop :
Units purchased in the store, automatically replace the old blocks of the same species .
Cartridges added 1 damage to attack the main character with each new unit purchased .
HP added one bottle to each treatment of the character.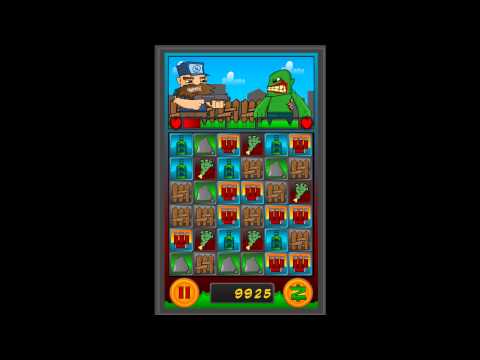 Write the first review for this app!
No comments in the Android market yet