SwimWiz Pro Demo
Get all the features found in the FREE SwimWiz application plus an integrated Google Calendar logbook for storing and viewing Hy-Tek meet results and your workouts. Your results and workouts in Google's cloud!

Keep track of meet results in an easy to view log book. Save and view meet results for multiple swimmers. Create new meet results, such as open water swims, or modify existing results as well as track multiple swimmers.

Share the 'SwimWiz' calendar through Google Calendar and your shared users can access your calendar. Great for users or parents that want to keep track of one swimmer. In the Month view in the drop down menu select Settings, then Switch Calendar. Support includes creating a new calendar and switching accounts if the Android phone has multiple accounts.

Keep track of workouts for swimming, running, cycling, walking, weights (dryland), yoga, surfing, windsurfing, kitesurfing, inline skating, etc. Enter workout distances and/or workout durations. Keep track of workout totals on a weekly, monthly, or yearly basis. In the month view click drag to the left or right to get the Monthly Totals.

In the Month view click drag up and down to advance to the previous or next month. To jump to a specific month click the header title, i.e. 'Log Book August 2011', to bring up a Go to dialog.

Preferences for text sizes, text and background colors.

Tablet friendly.

Calendar function requires a data connection. Support for offline access may be added in the future.

Demo version allows up to fifteen calendar entries. Continued use requires SwimWiz Pro purchase from the Google Play store.

Note: This application is currently being considered for deprecation. Only minor bug fixes are planned. No feature additions or enhancements are planned.

Recent changes:
v3.0.8
Android Kit-Kat fix.

v3.0.7
Update Google Client Library to v1.17. Android minimum version now Gingerbread (2.3).

v3.0.6
Added READ_GSERVICES permission.

v3.0.0
Google client v3 update.

v2.1.11

Update to latest standards: 2013-2016 US National Age Group Times.

v2.1.10
Fix calendar end of year issue.

v2.1.9
Updated results screen with a new standards animated gauge. Added rowing workout to Log Book.

v2.1.8
Fix parsing issue encountered w/ HY-TEKs MM 4.0Dc results.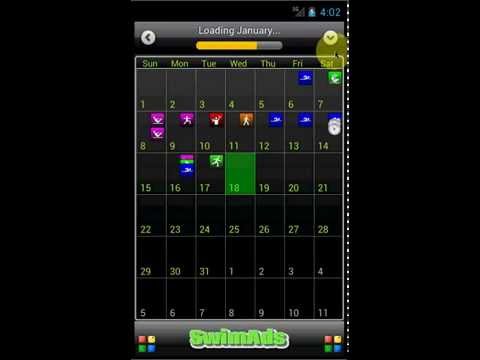 Write the first review for this app!