Tangled
☆☆☆ Over 2 million players and counting! Now also available on Android. ☆☆☆
The goal of the game is to "untangle" the lines and make sure they don't overlap. Touch the dots and drag the lines to untangle them. You can now play the famous Planarity / Untangle game on your Android device.

The 90 carefully designed puzzles provide a smooth learning curve. The first five levels of each world are easy, the next 5 are a bit harder and the last 5 puzzles are really hard. Once you've finished all 90, you can have unlimited fun with the randomly generated puzzles.

Features:

✔ Set of 90 puzzles carefully designed in increasing difficulty
✔ 6 worlds, each with a unique look
✔ Awesome soundtrack by James Primate
✔ Star rating for each puzzle
✔ Progress bar so you can see how close you are to solve the puzzle
✔ MultiTouch support; move multiple dots at once
✔ Unlimited randomly generated puzzles with 10 difficulty levels
✔ HD graphics!

"The game idea is pretty strong and the execution is also very well done. It can be very tough at times, but if you are the kind of guy who loves to take on challenges, give Tangled a shot." 9 / 10 TheAppleGoogle

★★★★★ "Awesome - Congrats on a simple yet really fun game!" nobre

★★★★★ "One puzzling and challenging game - The replayability of this game is outstanding!. ..." Luis Villalta

Trailer: http://www.youtube.com/watch?v=kz2Pjp_xbDg

Recent changes:
- Fixed the black screen issue. Sorry about that!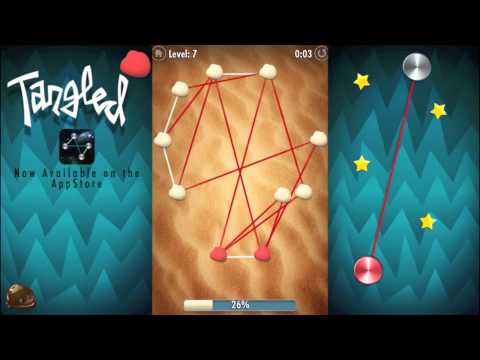 Write the first review for this app!