Tank Dodger - A Runner Twist!
A fun new twist on the infinite runner game! You're skills are tested in running and dodging enemy tanks and their fire as you try and have them destroy each other. Grab health power-ups to keep going! It will take quick reflexes and quick decisions to come out on top and survive as long as you can! Includes awesome music, old school 80's retro 8-bit pixel style graphics, and original sound effects to keep you dodging! Intense nonstop endless FUN! With random enemy generation, you'll always have a fresh challenge. How long can you DODGE and SCORE!?

How to play:
You are Boris the Tank Dodger. Your job should you chose to accept it is to dodge the red and blue tanks and their bullets and make them destroy each other to score points. Touch the screen and Boris will run towards where ever you are touching. As you move your finger around while touching the screen, Boris will follow it.

Scoring Points:
An individual tank destroyed is worth 50 points added to your score. There is a combo multiplier that starts when a tank is destroyed and lasts for 3 seconds before resetting. For each tank destroyed within the 3 seconds, the combo multiplier increases by 1 and is applied by multiplying the current combo number by the 50 points of the current destroyed tank and then added to your score. So the first tank you destroy is worth 50 points, the next within the 3 second limit is worth 100, the next 150, etc. Every so often a special heart powerup will spawn. If you can run into it before it disappears, you gain 25 hit points to a max of 300 hit points at any time. There is also a special bomb powerup which, if you run into before it disappears, destroys all tanks and bullets on the screen and gives you 500 points multiplied by the current combo multiplier. Good luck, you'll need it!

Recent changes:
Bug fixes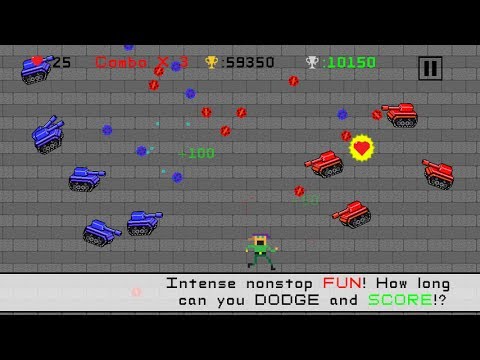 Write the first review for this app!