Teacher book lite
APPLICATION SUPPORT FOR TEACHERS
Ended the teacher book, now use your tablet to manage your absences, check homework, get your notes, and have all eyes on the day of the board. All in one application!

THE NUMBER OF CLASSES AND THE NUMBER OF STUDENTS ARE UNLIMITED and manage in the CSV file.
Help site: sites.google.com/site/onadesidees/

The books are kept in previous years and it is possible to quickly check.

Importing student is quick and easy using a CSV file (which can be retrieved from its establishment or manually create a spreadsheet).

The number of classes and the number of students are unlimited in the full version.
The demo version contains all the features of the full version but is limited to 15 students in total (distributed in class).

GRADES:
- Enter notes your students
- Management control coefficient
- Ability to change the control name, the date, the coefficient, the note of the student at any time
- Switch easily from one quarter to another by dragging your finger

3 BOOKS FULLY CUSTOMIZABLE:
- Selection of items
- Choice of colors
- Book single choice or multi-choice
- Ability to remove a sequence
- Ability to edit a sequence at any time
- Switch easily from one quarter to another by dragging your finger

BILAN FOR CLASS:
- Review of each student per quarter
- Possibility to record observations during the class council

SYNC via Dropbox:
- Synchronize your books between two (or more) devices
- Save your books to lose nothing
- Get your books on your new device, in seconds

SETTINGS:
- Add, edit, delete a student manually
- View and / or edit notebooks from previous year
- Export notes of each class in a CSV file

FOLLOW developments on Twitter: @onadesidees

Tags: book, teacher, high school, college, note, absence , punishment, class council, dropbox

Recent changes:
Agenda: creating and displaying the schedule by default.
Agenda: ability to take a photo from an event.
Agenda: PDF export.
Books: Ability to add a comment to each event or note.
Settings: Add, edit, delete a class manually.
Bugfix.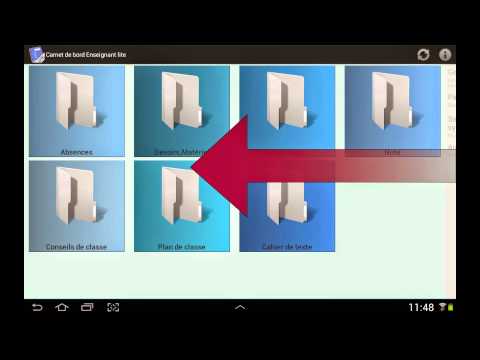 Write the first review for this app!