The Co-operative Bank (NZ)
Banking on-the-go is so much easier with The Co-operative Bank (NZ) mobile app. If you're a customer, now you can do pretty much all of your banking from your phone. And if you're not, you can use the app to join our great bank and set up your accounts.

We've added heaps of great new features with this update. You can join, set up new accounts, set up your Loaded™ Everyday card account and top it up, and recommend The Co-operative Bank to others.

With this app, customers can:
- Set up their Loaded™ Everyday card account and top it up
- View account details, balances and payments with one touch
- Open certain new accounts online
- Search for transactions across all your accounts at once
- Personalise your banking with your own images
- Transfer your money and make payments
- View your account details
- Start and stop statements being mailed to you

If you're already a Co-operative Bank Internet Banking customer, all you need to do is get the app, enter your Internet Banking login details and set up a new mobile app PIN. Then you're ready to go! If you don't already have Internet Banking, just drop into your local branch or call us on 0800 554 554 to set it up (or +64 4 463 1758 from overseas).

If you're not a Co-operative Bank customer yet, you can still use the app to:
- Become a customer from the comfort of your home
- Find your nearest Co-operative Bank branch
- See our latest interest rates
- Use our home and personal loan calculators
- Contact us

Downloading the app is subject to our Digital Services Terms and Conditions and our General Terms and Conditions which are available at www.co-operativebank.co.nz

Your Loaded™ Everyday card is issued by Kiwibank Limited and distributed by The Co-operative Bank. Funds transferred to your Loaded™ Everyday card are held by Kiwibank Limited. Kiwibank's Disclosure Statement is available from your local Kiwibank or at www.kiwibank.co.nz. Terms and conditions apply to the issue and operation of Loaded™ Everyday cards and accounts.

The Kiwibank Loaded names, logos and related trademarks and services marks are owned by Kiwibank Limited. Terms and conditions apply to the issue and operation of Loaded™ Everyday cards and accounts.

Explanation of permissions:
- Location permission - is used specifically for the Join Us process
- Read contacts - allows you to associate contact images with payees
- Find accounts, prevent sleeping - allows you to receive notifications about payments that are about to fail
- Modify or delete contents of storage - allows you to set images on accounts and payees

Recent changes:
- We have fixed the problem that sometimes caused the app to become unresponsive
- Anyone can join The Co-operative Bank from the comfort of their own home
- Customers can now open a new account online
- Customers can set up their Loaded Everyday card account in the app and top it up
- Customers can also recommend our great bank to family and friends
- Increased the Loaded™ Everyday card top-up timeout to improve flow.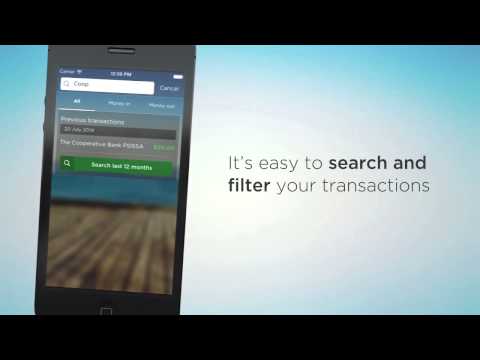 Write the first review for this app!