Threes Classic - Free
The fully free THREES game for android.
~~~~~~~~~~~~~~~~~~~~~~~~~~~~~~
A tiny game for brainy people. Threes for android is a free and addictive simple puzzle game where you match similar numbers. It is the mother of all 1024, 2048 and similar games with a slightly different game algorithm that makes it much more fun and addictive.

Try out online version here - http://threesonline.in

You can combine one and two, but not twos or ones!
Above 2, you can combine similar numbers together. E.g. threes can be combined to get sixes, sixes can be combined with get twelves and so on. Just swipe on the board to move blocks and combine.


Features -
- Normal and advanced game modes with 4x4 and 5x5 layouts.
- "Doge" and "Grumpy Cat" boards.
- Google game service integration. Store your scores and compare with people in your circles.
- Swipe anywhere on the screen to move blocks.
- Undo button for that annoying moment.
- Ad free mode.
- Optional in-game sounds.
- Choose your theme.
- Very light weight and battery friendly.
- Quickly and easily share your high score screenshot with friends on any service.
- Your high score list.
- Smooth and stylish animations.

Tags:
Free threes game android, Threes game, threes free version.

Recent changes:
Bug fixes.
All new HUES FACES board.
New amazing animations on all boards.
"Grumpy cat" and "Doggy" boards.
Normal and Advanced modes.
Themes.
Optional in-game sounds.
Fixed scrolling issues in KitKat.
Smooth scrolling.
Undo Button.
Goodies on reaching high scores.
Fixed screen clipping in high density.
Ad free mode.
In-game bonuses.
Swipe on any part of screen to move blocks.
Fixed app crashes.
Fixed leaderboard not showing up.
Fixed sharing screenshot.
Some bug fixes.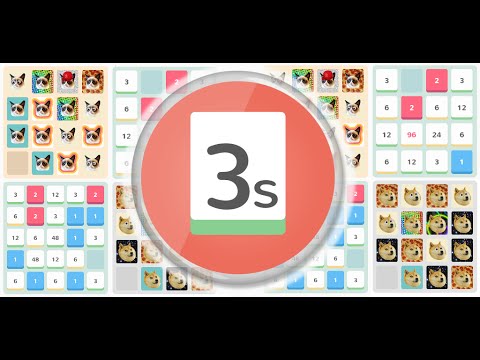 Write the first review for this app!