Time tracker - Mobile Worker
Mobile Worker. Work mobile everywhere.
Mobile Worker application is a time management and project data gathering app which is perfect for field workers and freelancers. User-friendly and adaptable application is excellent for workers who manage multiple projects at once and need to keep track of various tasks and keep all the data in one safe place.

Mobile Worker data gathering features
• Work time tracking and control
• Documents gathering
• Task management
• Expense adding
• GPS tracking
• Reporting: Timesheet, earnings, expenses

Time Tracking
• Work time tracking with one button push.
• Change hour type. Variety of hour types such as regular work or pause, driving, meeting and etc. are possible to use with the app. You may create hour types that meet your business needs as well.
• Expense adding. You can set up your own expenses based on your needs and add them to tasks.
• Edit registered task data. Correct task descriptions, location, time tracker information and tags. Edit or add additional hours and/or expenses on a task when needed. Favourites function would help managing the most commonly used hour statues and expenses.

Project Task Management

• Create project. You can add 7 projects on a FREE version application.
• Review and filter tasks. Use our filter functionality to review all project tasks and their details.
• Set income per hour. You can set the income per hour on a project level.
• Create tags. We have created tags and tags' groups classifier to meet your personal needs of identifying your work done quickly on a task.

Reporting
• Excel reporting. Mobile Worker app will give you the .xls report overview of all tasks and statuses with detailed information on customer name, location, task descriptions and much more.
• Timesheet. Get a clear view of how you spend time daily, weekly and even monthly and review you income as well as expenses information in one place.

Document Management Tool
• Get files from different devices. You can add multiple files at once or add images and videos without browsing through all the files. These files can be accessed on all devices that are connected to the same cloud storage as the app is.
• Documents management. Search system will allow you to quickly find a document, rename it or delete. You can also create different folders and use sort system to review files.
• Photo / video capture. You can also take pictures or create video material and add it directly to the project you work on.
• Cloud storage integration. You can link your device to your Dropbox or Google Drive account.

Additional benefits for your convenience
• Intuitive user interface. Time tracking with a single push of a button, pre-designed tags, all project documents accessible in one place.
• Works offline. The App works where you are, not where the Internet connection reaches. All time tracking and any other project management data will be synchronized once the connection is established.
• Multilanguage. Mobile Worker application is available to you in 12 different languages.
• Control sync intervals. To your convenience you may always have your app in sync or adjust a different time range to suit your work style.

Recent changes:
Fixed export data problem.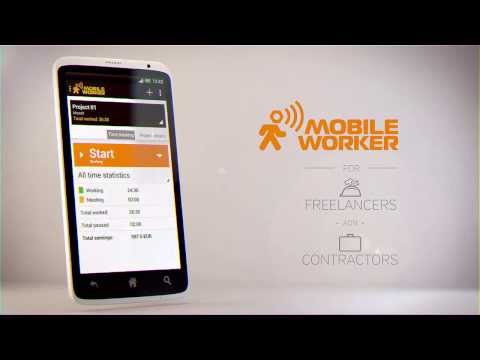 Write the first review for this app!