Did you develop this app? Access more services »
TodoNote
TodoNote, Never forget a thing.
This tool is Simple, fun to-do list manager our todo list.
Countless apps and sites store your to-do list in their own proprietary database and file format.
Your to do list will be stored in a plain text file YOU control. It is help for Android makes it easy to add, update and prioritize tasks, tag them with project names and contexts, search, filter, and most importantly, mark your tasks complete.

FEATURES
With TodoNote you can:
+ Keep your todo list in a documented, human-readable, plain text format.
+ Enter multiple tasks in a single input box.
+ Perform batch updates (complete, prioritize, delete) to multiple selected tasks at once.
+ Quickly filter and group tasks by project or context.
+ Search your list by keyword.
+ Sort your list by priority, date, or line number.
+ See how long a task has been on your list.
+ Archive completed tasks to a done.txt file.
+ Dial a phone number or send an email directly from a task with a phone number or email address in it.
+ Add a single or multiple tasks to your default calendar to create a reminder.
+ Keep your list on your homescreen with a resizable, scrollable widget.
+ Share selected tasks or the whole list via Android's Share menu.
+ Send text from any other app on your phone, like email, into a new task via Android's Share menu.

PERMISSIONS
TodoNote is not requires any permission. It is very good for your choice.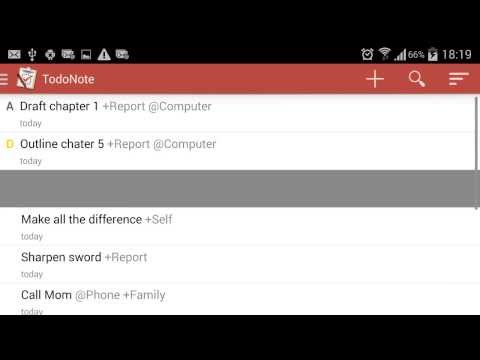 Write the first review for this app!
No comments in the Android market yet